Disclosure: This post may contain affiliate links. This means that at no cost to you, we may earn a small commission for qualifying purchases.
Last Updated on September 27, 2021
Since your refrigerator or freezer is one of only a few appliances that run all day long, it can use a non-negligible amount of power.
If you calculate how many kilowatt-hours your refrigerator uses, you can even figure out how much of your energy bill is going to your refrigerator each month!
Most refrigerators will come with documentation telling you their voltage and amperage. Conventional refrigerators typically have a starting wattage of 800-1200 watt-hours/day, and a running wattage of around 200-watt hours/day.
However, that doesn't answer our previous question: What is the average running wattage of a fridge?
If you still have all the documentation that came with your refrigerator, you can make this process very easy.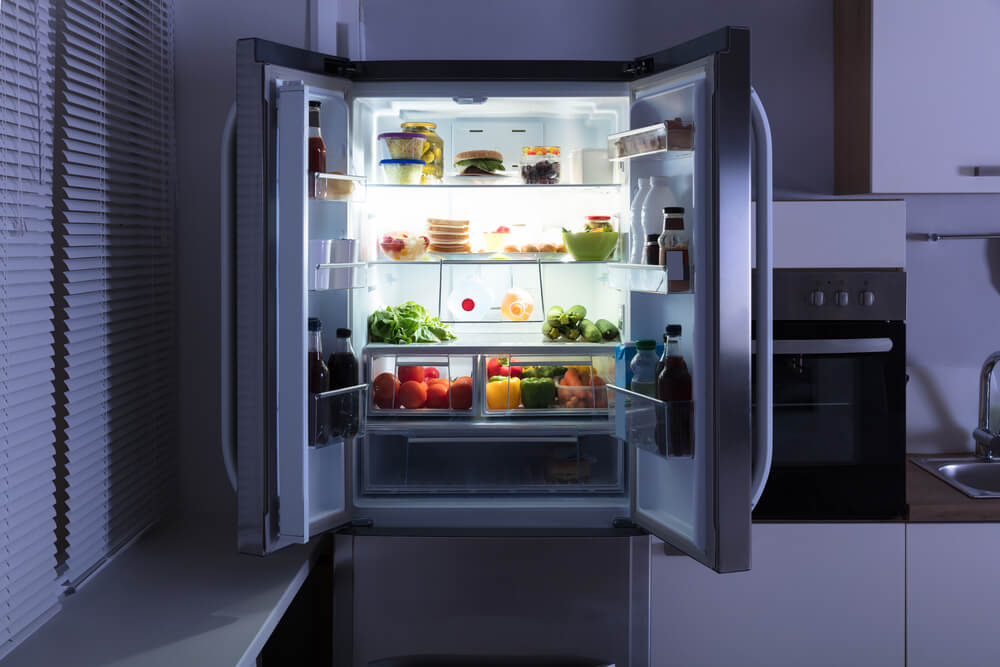 How Many Watts Does a Refrigerator Use?
How many watts does a fridge use?
The answer depends on the size of the fridge, but the average refrigerator wattage ranges between 100 and 400 watts.
The EnergyGuide label that came with your fridge will typically list the fridge's projected energy use per year in dollars. It will also record the fridge's yearly kilowatt-hour consumption.
In the U.S., this sticker will be a yellow EnergyGuide sticker, but your fridge may also come with a white Canadian EnerGuide sticker.
Make sure you're reading the right one! There is legislation that requires appliance manufacturers to add these labels.
Keep in mind that these stickers use estimated values, so they may be slightly inaccurate. Manufacturers use national averages to figure out these values, and things like local energy costs, and temperature settings.
Ambient temperatures may vary where you live and affect the cost of running a fridge.
It may seem that refrigerators use a lot of wattage seeing as they are constantly on, they actually require less power consumption than other main electric appliances, such as an air conditioner, water heater, or clothes dryer.
Each EnergyGuide sticker gives you "models with similar features" scale to look at. It gives you a range of yearly energy costs that your fridge may match up with.
Conventional refrigerators typically have a starting wattage of 800-1200 watt-hours/day
Let's assume that we're looking at a yellow EnergyGuide label that says the following:
Estimated yearly cost: $40 (monthly cost: $3.33)
Models with similar features: $49-$65 yearly ($4.08-$5.42 monthly)
All models: $30-$65yearly ($2.50-$5.42 monthly)
Estimated yearly electricity use: 332 kWh (monthly: 27.67 kWh)
The "estimated yearly cost" value tells you what the average American will pay in energy costs for this fridge each year, using the nationwide average energy cost of 12 cents per kilowatt-hour.
The "models with similar features" value tells you what similar fridges will cost per year. The "all models" value tells you what similarly-sized fridges across the board, old and new, will cost per year, regardless of similar features.
The most important value here is the "estimated yearly electricity use." The "estimated yearly cost" is helpful, too, though not exact. To get your monthly cost for any value, simply divide it by 12.
Calculating Specific Energy Use
Because refrigerators cycle on and off throughout the day to keep temperatures stable, you shouldn't be using 24 hours for your calculations.
The US Department of Energy says that most refrigerators only run on maximum power for about 8 hours each day (or about ⅓ of the time they're plugged in).
However, this number can change depending on several factors, including:
How often your fridge is open: if you or family members are always opening the refrigerator for food, it will need to run to cool down more often
Ambient temperature: if your fridge is in a warm spot in your house, it may have to run longer; similarly, if it's in a cold place, it may have to run less
Season and climate: fridges often run less during the winter or in cold climates, and more during the summer and in warm climates
Temperature settings: you can adjust the temperature settings on your fridge, and lower temperature settings will use more energy
Freezer: If your fridge has a built-in freezer, it may consume more energy or run longer than average
Let's use the same example from earlier. If the refrigerator is using an estimated 332 kilowatt-hours per year, that's 0.91 kilowatt-hours per day. This lines up with average refrigerator wattage and use, which is about 1-2 kilowatt-hours per day.
To convert this number to watts, first multiply your kilowatt-hours (0.91) by 1,000, giving you 910.
Next, divide this number by 8 – the average run time of a fridge in a day – to get your fridge's average wattage. In this case, the answer to "What is the average running wattage of a fridge?" is about 113.75 watts.
To calculate the monthly cost, all you need to do is divide the estimated 332 kilowatt-hours per year by 12. This leaves you with about 27.67 kilowatt-hours per month or about $3.32 per month.
You can also just divide the estimated yearly cost by 12, leaving you with the same result.
What if I Don't Have My EnergyGuide Sticker?
If you've lost your EnergyGuide sticker and still want to calculate your fridge's energy use, you might not be out of luck.
If you can find your fridge's serial number, which is usually on a sticker somewhere on or inside your refrigerator (check inside the fridge door or on the back of the unit), you can look up the EnergyGuide specifications online.
If all else fails, you can always purchase a plug-in electricity usage monitor. You would put this unit in the plug between your wall outlet and your fridge.
If you're wondering, "How many watts does a refrigerator use exactly?" an electricity usage monitor will answer this. It can be great for diagnosing energy loss issues for this reason, too.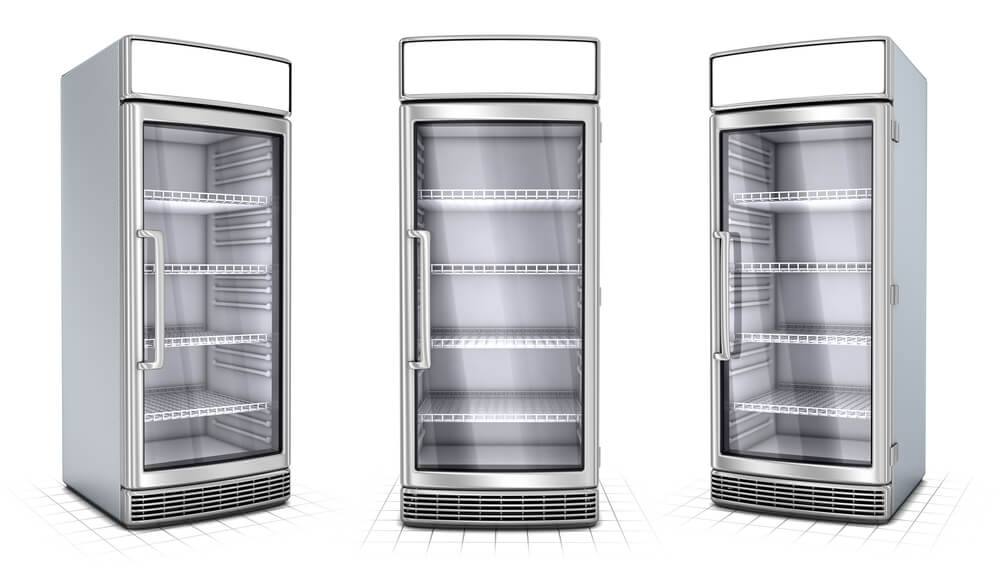 How to Reduce Your Fridge's Power Consumption
We've answered the question, "What is the average running wattage of a fridge?"
However, if your refrigerator uses much more than what your EnergyGuide recommendation says, there might be a few issues with your appliance.
You can use a few tricks and tips to reduce your fridge's energy consumption if it seems high. Try the following:
Dust your fridge
Dust and debris tend to collect behind and underneath your refrigerator, regardless of size and model!
Make sure to pull your fridge away from the wall and remove as much debris as possible every so often. Pay special attention to any fans and air vents, as your refrigerator may have to work harder if these get clogged.
Check leaky seals
If the rubber seals around your fridge or freezer's doors break or peel off, they might not provide a perfect air seal.
If this is the case, your fridge will need to work harder to maintain a balanced temperature.
Adjust the temperature
A fridge needs to keep steady at 37°F or below (refrigerator freezer should stay at 0°F) to keep food fresh.
If your temperatures are lower than this, you're just wasting energy.
Conclusion
All in all, the monthly cost of running a refrigerator is relatively low, though it depends on the size and cost of your refrigerator.
If you're looking to save energy, your best options are to upgrade to a newer, more energy-efficient refrigerator or give your current unit some well-deserved maintenance.
Either of these options should result in noticeable energy savings on your monthly bill!
Related Articles: