Disclosure: This post may contain affiliate links. This means that at no cost to you, we may earn a small commission for qualifying purchases.
Last Updated on October 5, 2022
Tesla cars have revolutionized the way we interface with and conceptualize electric cars.
Previously, electric cars were all seen as possibly not the most attractive cars, plus they seemed a be inefficient ways to travel. Ever since Teslas have hit the market, that way of thinking has been completely shattered.
You can use a portable generator to charge your Tesla car providing you are using a power source that is grounded and the generator being used is an inverter with a clean pure sine wave.
Besides looking sleek and modern, the Tesla Model S in Sport Mode can go from 0 to 60 miles per hour in a staggering 2.5 seconds. That same Tesla Model S can travel 270 miles on a single charge. That's a far cry from what we usually expected out of electric cars.
But what about the power source? No matter what's going on with your electric car, it's usually just a simple five-minute process of refilling your tank before you're back on the road and ready to take on the world. Having to charge your car is typically what holds people back from committing to one.
A portable generator comes in handy as a backup power supply in case of a power outage.
How novel Teslas are about how they work and what they do have raised a lot of questions. This article is going to center around whether or not it is feasible to charge a Tesla on a portable generator. The main mode of thinking here is whether or not having a generator on hand for your Tesla can be the same thing as having a spare jerry can in the back of your car.
Before we can fully answer that question, let's go over charging a Tesla normally.
See Also: Can a Tesla Run on Gas
How Are Tesla Cars Usually Charged ?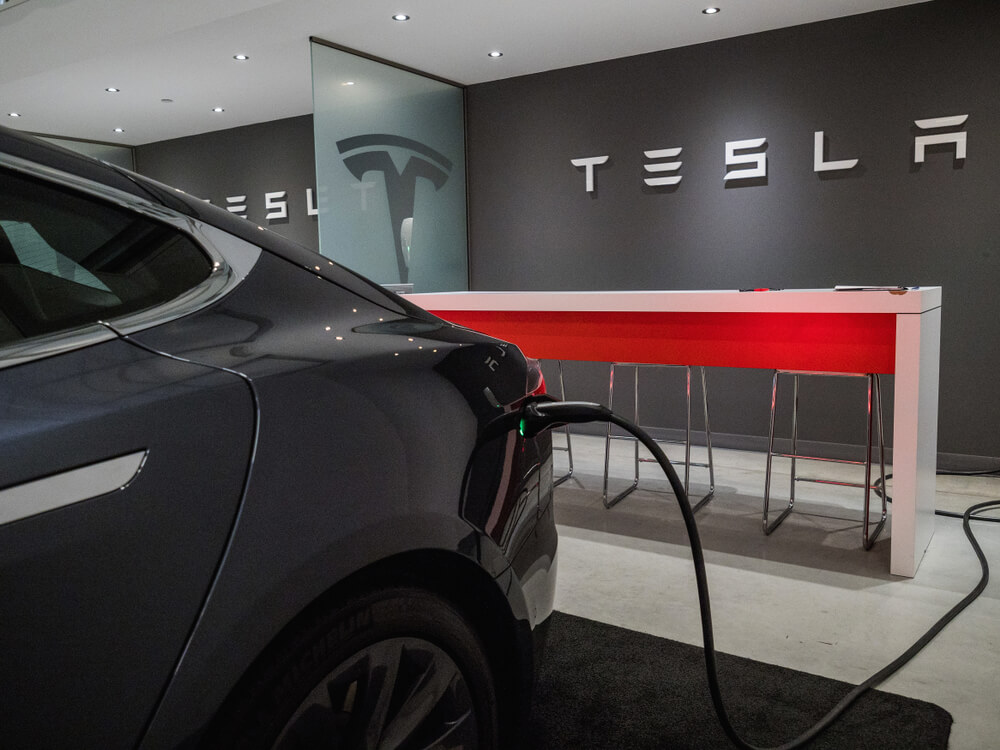 There are two main ways people typically go about charging their electric Tesla. They either use one of the Tesla made superchargers that are popping up in increasing numbers in shopping centers and commonly trafficked areas around North America, or they charge it in the comfort of their own home.
A Tesla supercharger can fully charge a Tesla from empty in around 75 minutes.
When Teslas are charged at home, there are typically two different voltages available. Most people have access to a 110V outlet, but some have a 220V outlet for more specialized applications. When charging at a 110V outlet, it will take approximately seven hours to charge the battery fully.
At 220V, the battery will take 3.5 hours to charge fully. Note, these numbers are from completely empty, typically most people return home with anywhere from 75%-90% of their total battery power after using their Tesla the whole day.
Now that that's out of the way, let's get into generators and how they give off the power.
Using A Portable Generator To Charge A Tesla?
Most generators can, in fact, produce either 110V or 220V, much like your standard house power outlets. If they didn't, it wouldn't be much of any use now, would it?
So, the question here is can a gas-powered generator be used to charge the car. The answer is yes, but not always.
First, off it is worth mentioning that Tesla themselves say in the manual to not make use of a portable generator; however, this is most likely to insulate themselves from any adverse events should any harm come to you or your electric vehicle through the use of a portable generator.
Teslas are very intelligent cars, and won't let improper power sources into their charging system. This is why not all generators will work to charge a Tesla.
First off, you need to ensure that your generator has a clean sine wave output. This means that the current coming out of your generator needs to be consistent and at the proper intensity to not trigger Tesla's built-in security.
This means that your generator also needs to be an inverter. The energy coming out needs to be a pure sine wave and not some other wave, as Tesla will not allow the power to charge the battery if it is "unclean" energy.
More expensive generators tend to have pure sine waves as opposed to inexpensive ones that will have a modified sine wave.
Next, Tesla will only charge if the power source is grounded. Sometimes the Tesla will accept portable generators that are only grounded through their frame, but other times you will need to ground the generator yourself with either a special plug or connecting the frame of the generator to a metal rod that has been put into the ground.
From there, you'd want a generator with at least 1500 watts of power; otherwise, you aren't even scratching the surface of being able to charge the electric vehicle.
So, let's assume that you now have a 4000W generator with a pure sine wave and that the Tesla detects as adequately grounded. What comes next?
Well, you'll first turn on the generator and now begins the charging process. With a 4000W generator, it will take over a full day to charge the vehicle from 0% to fully charged. That means several tanks of gas will have to be put into the generator to achieve a full charge not to mention lots of waiting around.
If you were to be using a generator, it's probably because of an emergency, and if you had a full tank and a bit of time to spare because you just need to go a little bit further, it's not entirely out of the question. A partial charge might end up being worth all of the effort.
See Also: Tesla Solar vs Sunrun Review
Conclusion
To answer the question, you can charge a Tesla model x with a portable generator, but it really isn't easy nor is it convenient.
If you needed just a little bit more oomph to get to your next charging station and for some reason had a and expensive generator on hand, then it might be worthwhile to get the extra thirty or so miles out of your Tesla instead of having to call for a tow truck.
It's an interesting idea to consider, for sure, but anything short of an extremely powerful generator that ticks all of the right boxes for the internal computer to accept as clean power isn't even worth giving a second thought.
See Also :