Disclosure: This post may contain affiliate links. This means that at no cost to you, we may earn a small commission for qualifying purchases.
Last Updated on October 23, 2021
If you have a generator that you use on the regular; you're going to want to change your oil periodically to ensure that your generator stays in good working condition.
You wouldn't want to experience a power outage and then all of a sudden find out your generator has seized up because of bad oil.
The process of changing your generator's oil will change a little bit depending on the make and model of the generator you own, but in any case, this is usually a pretty simple process.
Nonetheless, it's important that you know exactly what to do to make this process go as quickly and smoothly as possible.
In this article, we'll be walking you through the steps necessary to change the oil in your portable generator, and we'll also be answering some of the frequently asked questions about generator maintenance.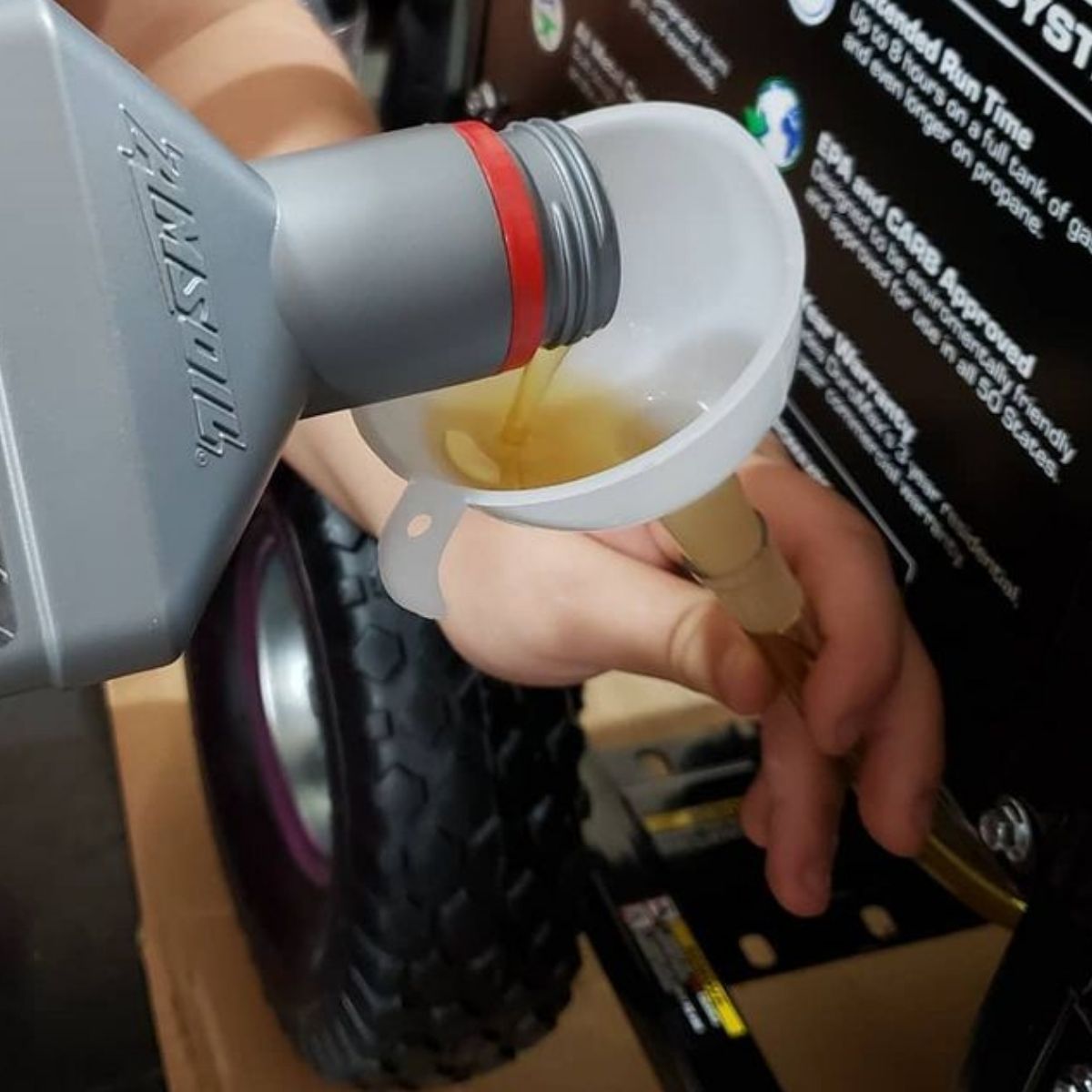 Generator Maintenance FAQs
Before we get into how to change the oil in your generator, let's take a look at some of the questions that frequently get asked about how to maintain a portable generator.
It's good to know some of this stuff in advance if this is your first time using and maintaining a generator of this type.
Do Portable Generators Come With Oil?
Typically, generators ship from the factory with no oil or fuel in them. It's never a bad idea to double-check, but if you've just acquired a brand-new generator and you haven't run it yet, assume that there's no oil inside. Running a generator without oil is the easiest way to ruin it.
Can I Run My Generator Without Oil?
Can a generator run without oil? Technically yes. Should a generator ever run without oil? Absolutely not.
When a generator is running, the moving parts inside it generate tons of heat and friction. Without oil to keep things lubricated, this causes tiny fragments of metal to shear away from the internals of the generator's engine.
As these metal fragments fly around the inside of the engine, they cause even more damage, and eventually the engine breaks or seizes up.
If you were to run a generator without any oil in it, you'd probably get half an hour's worth of use out of it at the most, if you were lucky.
See Also: Can you run your generator in the rain
How Often Should I Change My Generator's Oil?
After you first fill your generator up with oil, you should change your oil within the first month or the first 20 hours of use, whichever comes first. Afterwards, you should change your oil every 6 months or after every 100 hours of use.
The reason for changing your oil so soon after the first few hours of use is because this is the generator's break-in period.
While using the generator during the break-in period, metal particles can sometimes end up loose in the engine as the various internal components get slightly worn down during their initial use.
By changing the oil soon after using the generator for the first time, you can remove these particles from the generator before they have a chance to cause damage to it.
In addition, after the break-in period is over, you should make sure to change your generator's oil every 6 months even if you haven't been using it.
This is because water and other debris can sometimes make their way into your generator's oil if you leave it sitting for long enough, and changing your oil can help you get rid of that stuff.
What Kind of Oil Does My Generator Need?
This depends largely on the temperature you plan on using your generator in. For general use, 10W30 oil is usually what you'll want to go with; for warmer conditions, SAE 30 oil is a better option, and for colder conditions, 5W30 is a good option.
Of course, these are just general guidelines; the actual oil your generator needs might be a completely different variety from any of these. If you want to be sure of which oil is the correct one to use in your generator, your best bet is to consult your owner's manual and see what it says.
See Also: How much gas does a generator use
What Kind of Fuel Does My Generator Need?
This depends on what kind of fuel your generator is designed to use. Modern generators use a variety of types of fuel, including gasoline, diesel, natural gas, and propane.
Some generators are designed to work with multiple types of fuel; for example, there are many generators available that can burn either gasoline or propane.
Assuming you have a gasoline-powered generator, which is the most common variety, the correct grade of fuel to use is 87 octane or higher.
Odds are that your generator uses a 4-stroke engine as well, so make sure you're only fuelling it with straight gasoline; gas/oil mixtures are for 2-stroke engines only.
How to Change Your Generator's Oil
Now that we've got you familiarized with the basics of how to maintain your generator, let's go over how to actually change your generator's oil.
Again, this is a pretty simple process if you know what you're doing, but you do actually have to know what you're doing for it to be easy.
Here's how this process is done:
Step 1: Heat Up the Old Oil
Before draining the old oil from your generator, turn your generator on and let it run for a few minutes to get the oil heated up.
This will decrease the viscosity of the oil and make it way easier to drain.
Step 2: Prepare the Generator for Draining
Once you've let your generator run for a little bit, turn it off. Depending on the model of generator you had, you might want to prepare it before draining the oil by putting it up on blocks.
This will give you more free space under the generator to remove the oil plug and drain the oil.
If you can, you should also disconnect the spark plug from the generator just to make sure that the engine doesn't accidentally start when you're draining the oil. You may want to consult your owner's manual to find the exact location of the spark plug.
Before you start draining the oil, don't forget to put a drain pan under your generator before you remove the oil plug.
Step 3: Drain the Oil
This step can be slightly different depending on whether your generator has a drain plug or not. If it does, make sure your drain pan is in place and then remove the plug using a socket wrench. The oil will start draining out immediately.
If you don't have a generator with a drain plug, however, then you'll need to physically tilt the whole generator over so that the oil can flow out of the filler neck. You can also use a marine oil pump to remove the old oil in this case.
Step 4: Replace the Oil Filter
If your generator has one, you should replace the oil filter whenever you change your oil. Consult your owner's manual to find out for sure if your generator does indeed have one.
Be careful when removing the old filter, as it may still be hot from you running the engine. Make sure to have a drain pan handy when removing the old filter as well.
Once you've removed the old filter, take your new filter and apply a bit of fresh engine oil to its gasket, then screw it back into position.
Step 5: Add the New Oil
With the oil filter installed, it's time to add the new oil. Make sure the drain plug is fully in place, and then add your oil to the generator.
The correct amount of oil to add is once again going to vary depending on the specific generator you have, so check your owner's manual to find out how much you should be putting in.
When the new oil has been added, the final step is to reconnect the spark plug (if you did end up disconnecting it). Congratulations, you've just finished changing your generator's oil!