Disclosure: This post may contain affiliate links. This means that at no cost to you, we may earn a small commission for qualifying purchases.
Last Updated on March 6, 2022
Pretty much everyone agrees that solar power is an amazing thing. It has so many benefits and can really make a huge difference for protecting our planet from further harm.
The downside, of course, is that depending on where you are, solar power will only work at best half the time: naturally it only works during the day, but it also won't work if it's super cloudy. If you really need to charge up your solar panel when there isn't any sun, what are your options?
Do solar lights need direct sunlight? Well, as it turns out, it's actually possible to charge a solar panel even when you have no access to sunlight. Read on to find out how.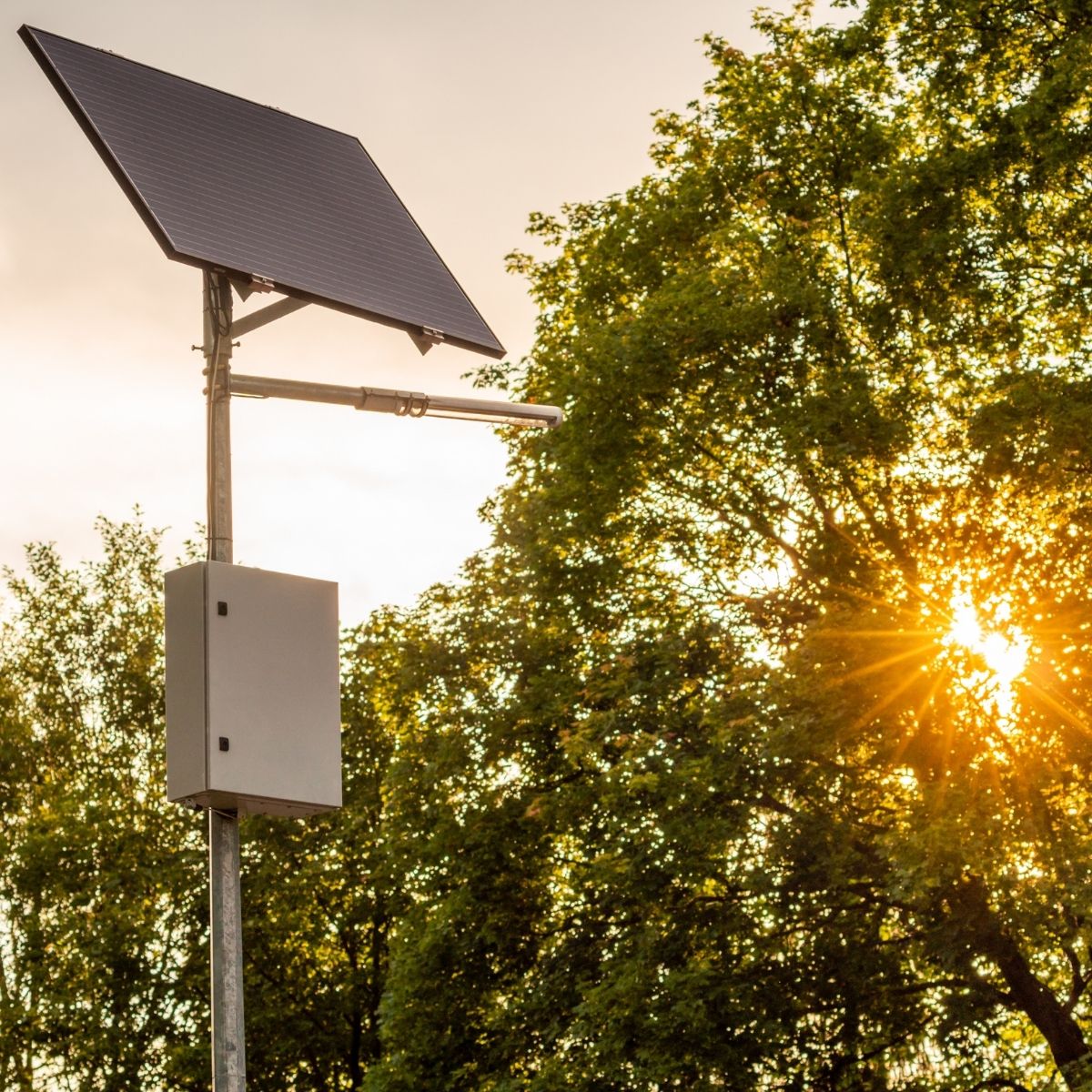 Can Solar Lights Be Charged Indoors?
The first question you might have is whether or not solar lights can be charged indoors. Many people ask if you can use other lights to charge solar batteries instead of sunlight. For example, we have seen many people ask the question "can artificial light power a solar panel?" The answer is yes, and there are actually several different ways to achieve this.
How to Charge Solar Lights Indoors
One of the easiest ways to charge your solar lights indoors is by using other lightbulbs, like incandescent bulbs, to power the solar batteries.
You will find that placing the solar cells of your solar powered object facing the alternative light source (like a lamp) will also charge the battery. This is because the cells respond similarly to incandescent light as they do to solar power. The waves of light emitted by both sources are similar enough that the solar cells are able to convert incandescent light into the necessary energy. That being said, it's important to make sure your incandescent lights are bright enough for this to work.
You should also know that you won't be able to charge a solar panel or battery as quickly or as efficiently using incandescent light. The higher the wattage on your lightbulb, though, the faster the solar cells will charge.
How to Charge Solar Without Sunlight Outdoors
Again, the answer to this question is yes you can do this! Of course the ideal scenario would be to charge these outdoor solar powered objects with sunlight, but if you find yourself in a pinch there are a few things you can try.
Charging Your Solar Batteries on Cloudy Days
If you're trying to charge a solar battery on a cloudy day you're already in a bit of luck. Much like you might find your skin tanning or burning on cloudy days, you'll find that even when it's cloudy out your solar cells will still collect a bit of charge.
For best results charging solar panel on a cloudy day, we suggest using an amorphous solar panel instead of a polycrystalline or monocrystalline one that is typically the more popular choice.
Although amorphous panels are less efficient than the alternatives, they are much better at collecting charge on cloudy days.
How to Charge Solar Lights in Winter
As is true for cloudy days, solar panels will also still collect charge during winter. That being said, the process will take longer and will not be as efficient as it is in the summer when the light waves are more intense.
If you get snow in your area, however, you'll need to do two things to keep your panels up and running.
Make sure you routinely clear away any snow obscuring your solar panels and the faces of your lights.
Consider relocating your solar panels to a different outdoor location during the winter. This can help you avoid shadows that may get in the way.
See Also: Generator vs Solar Panels: What's Better?
Frequently Asked Questions
Here are some other questions we are frequently asked regarding the alternative charging methods for solar panels
Can LED lights power solar panels?
Yes it's possible to use LED lights to power your solar panels. That being said, the waves of light produced by LED lights are even more different to sunlight than the waves made by incandescent bulbs.
If this is confusing, don't worry. It basically just means that charging with LED lights will take longer and will require more LED lights to successfully charge your solar panels. To further speed up this process, we suggest using higher wattage LEDs to charge your solar panels.
Can you charge solar objects through a tinted window?
When charging solar-powered objects indoors you may wonder whether or not the charge capability is limited if your windows are tinted. The answer is that while tint does block some of the light from getting through the window, it doesn't block all of it, so your solar panels will still charge.
The amount of charge they will receive, however, is dependent upon how tinted your windows are and what type of tint was used. Some tint is meant to just darken the light that comes through so it isn't as intense. Other tint, however, is designed to reflect light back in the direction of the source. This type of tint will naturally make it much more difficult for your solar cells to charge.
Do solar panels need direct sunlight to work?
Direct sunlight will certainly help your solar panels get a stronger and faster charge, but it isn't necessary to successfully charge your panels. Solar panels work by converting photons that occur during daylight into energy. Without direct sunlight they will definitely still charge.
Keep in mind, however, that solar panels aren't as efficient when it's cloudy. To be specific, solar panels are usually labeled to be roughly 40% as effective on cloudy days as they are on sunny ones.
Hopefully this article was helpful for you and was able to answer any and all questions you may have regarding solar power and the sun!
Other Related Content