Disclosure: This post may contain affiliate links. This means that at no cost to you, we may earn a small commission for qualifying purchases.
A portable indoor generator is a compact power source designed to help you if you lose power or need a portable power source for outdoor activities, RVing, and camping trips.
Unlike traditional, larger gas-operated generators, indoor generators are battery-operated and the battery is rechargeable. They are a small generator for an apartment, condo, or other living situations where a gas-operated generator is not feasible.
Best Choice Indoor Generators For Apartments
Having an indoor generator for apartments can provide peace of mind when there is a power outage. Here are our best indoor generator finds that include compact portable power stations to fit into apartments, condos, and campers and reliable tools for when you need a backup power source.
1. Jackery Explorer 500 Indoor Generator
The Jackery Explorer 500 is a compact, durable generator built to withstand outdoor conditions as well as an indoor generator for apartments. It is small enough to be stored in RVs and mobile homes, but powerful enough to power a small blender, pellet smoker, projector, and RV lights and fans.
This portable indoor generator has a rechargeable battery that can be recharged with a solar panel or an outlet. It also has three USB ports, so you can charge your cell phone or any other devices that have a USB connector.
Features and specifications:
Dimensions: 11.84 x 7.59 x 9.20 inches
Weight: 13.2 pounds
Voltage: 110 volts
Wattage: 500 watts
DC outputs (total 120W): 1 Car Port (12V, 10A), 2 DC Outputs (12V, 7A, 6.5 x 4.4 x 1.4 mm)
Battery capacity: 518Wh (24Ah, 21.6V)
USB outputs (3): 5V, 2.4A (each)
Power source: AC, Carport, solar panel
This small generator for apartments or camping cannot support devices requiring over 500 watts, including hair dryers, coffee makers, microwaves, and heaters. However, it makes an excellent backup for medical devices like CPAP machines and has a long-lasting battery that can charge a cell phone up to 53 charges.
The Jackery Explorer 500 has a built-in pure sine wave Inverter that protects devices like laptops from power surges by evenly distributing power. This generator does not come with a charging solar panel or cable adaptor despite it recommending you use it as an environmentally-friendly alternative to charging.
PROS
Lightweight and easily portable at only 13 lbs

The LCD display makes it easy to use

Environmentally-friendly device

Comes with a two-year manufacturer's warranty
CONS
Wattage output is not as strong as other portable generators

It takes a long time to charge using the solar panel

The battery tends to drain faster in cooler weather
2. ROCKPALS 300W Portable Power Station
The Rockpals 300W portable indoor generator is a small generator for apartments or outdoor living with upgraded power. This mobile power station provides 300 watts to work as a backup power source for apartment or condo power outages with the added benefit of a 600-watt surge maximum.
Enjoy peace of mind with this indoor generator for apartments or condos. The Rockpals 300W generator can power a lamp for up to 70 hours, and a CPAP machine for a minimum of four nights. It can also charge smaller electronic devices like cell phones and laptops for multiple charges.
Features and specifications:
Dimensions: 7.48 x 5.9 x 5.5 inches
Weight: 7.5 pounds
Voltage: 110 volts
Wattage: 300 watts
USB outputs (2) Quick Charge 3.0
Power source: AC, DC (solar)
While Rockpals makes a slightly larger 500W unit, the 300W unit is still powerful enough to help during power outage emergencies or when camping outdoors. The green technology in the Rockpals 300W portable power station allows it to be charged with a solar panel that is not included in the unit. However, you can often find a discount to purchase one separately if you are already buying a Rockpals product.
The pure sine wave technology quietly powers devices without needing gas or emitting harmful fumes. It is easily rechargeable through solar power or by plugging into an outlet or car charger. This small generator for apartment or camping can be fully charged in six to seven hours and ready to power your small electronics or appliances.
PROS
Includes flashlights for night time support

LED screen makes it easy to use

18-month manufacturer's warranty
CONS
Solar charging takes longer than traditional outlets or carports

Must unplug electronics when you are finished charging, or the unit will drain power

Tendency to overheat
3. PRYMAX Portable Power Station, 300W Solar Generator
The PryMAX 300W portable power station provides security for your apartment or condo or while traveling. This portable indoor generator is lightweight and built with an easy-carry handle to take with you wherever you need it.
The updated lithium battery cells in the PryMAX 300W are powerful enough to charge a cell phone 40 times, a laptop seven to eight times, and run a 32 inch TV or minifridge for up to five hours. It is a safe generator for apartment or condo living with its built-in smart and silent fan to cool it. PryMAX also uses two pure sine AC outlets to charge small electronics and sensitive devices safely.
Features and specifications:
Dimensions: 11.84 x 7.59 x 9.20 inches
Weight: 6.5 pounds
Voltage: 110 volts
Wattage: 300W rated power, 600W surge power
DC output: 12V/8A, 24V/3A
Battery capacity: 298Wh
USB outputs (3): 5V, 2.4A (each)
Power source: solar-powered, battery-powered
Although the PryMAX 300W generator can power CPAP machines, for optimal performance, you need to purchase a separate DC converter to power this type of device. You must also buy a solar panel separately to charge with solar energy, but you can also charge through a carport or by plugging into a wall outlet at home. This package includes a portable indoor generator, an AC power adaptor, a user manual, and a PryMAX service card.
Safety is a top concern of PryMAX, and they built the 300W generator with overpower, overcharge, overvoltage, overcurrent, temperature, short circuit, electromagnetic field, and recovery protection.
PROS
Built-in surge and short circuit protection

Flashlight with SOS programming included for emergency and night time use

LED screen makes it easy to use

Comes with a two-year manufacturer's warranty
CONS
A tendency to overheat with heavy usage

Does not have quick charge ports

Does not work for larger appliances
4. Goal Zero Yeti 400 Indoor Apartment Generator
The Goal Zero Yeti 400 portable generator provides continuous 300W charging with a 600W surge pure sine wave inverter and 2.1A USB ports and 120W 12V ports. This gas-free generator alternative does not emit harmful fumes and operates quietly.
You can charge most small devices on it, including tablets, cameras, and laptops, and it can also be used as backup power for lights and small appliances like mini-refrigerators. The Goal Zero Yeti 400 LED display provides estimated run times, so you have a clearer picture of how much running time is remaining.
Features and specifications:
Dimensions: 8 x 10.25 x 8 inches
Weight: 29 pounds
Voltage: 120 volts
Wattage: 300W rated power, 600W surge power
Battery capacity: 396Wh
USB outputs: 2.1 A ports
Power source: battery-powered
The Goal Zero Yeti 400 is durable enough to use for indoor or outdoor charging, but its durability comes at a cost. It is considerably heavier than other portable indoor generators in its class.
The Yeti 400 is chargeable through a solar panel, but it is sold separately through Goal Zero.
PROS
Designed with plenty of power outputs including AC, USB, and 12V

Chainable with other 33Ah lead-acid batteries, which extends its use

US-based customer service center

Comes with a one-year limited warranty
CONS
Tends to take longer to charge

Heavier than other portable generators in its class

Low battery output

Battery stops holding a charge after a while
Benefits of Owning an Indoor Generator
If you live in an apartment or own a small property where an outdoor generator is not an option, then a portable indoor generator is an ideal backup in case of emergencies.
Eco-Friendly
An indoor generator for apartments does not require gas to work and therefore doesn't have a significant carbon footprint. Many indoor generators are also equipped to recharge using solar power, which means you don't have to rely on a wall outlet or car battery.
Compact Size
A small generator for apartment living can easily be stored in a closet or cabinet until needed. They do not clutter up already limited spaces. The compact size of these generators also makes them easy to lift and move and take with you when traveling.
Indoor or Outdoor Living
Unlike traditional outdoor generators that cannot be brought inside and often must remain a certain distance from a building, portable generators are made to work indoors but can be used outside if needed.
While some are built more rugged than others, indoor generators for apartments can be used outside to power small appliances or devices when camping or traveling.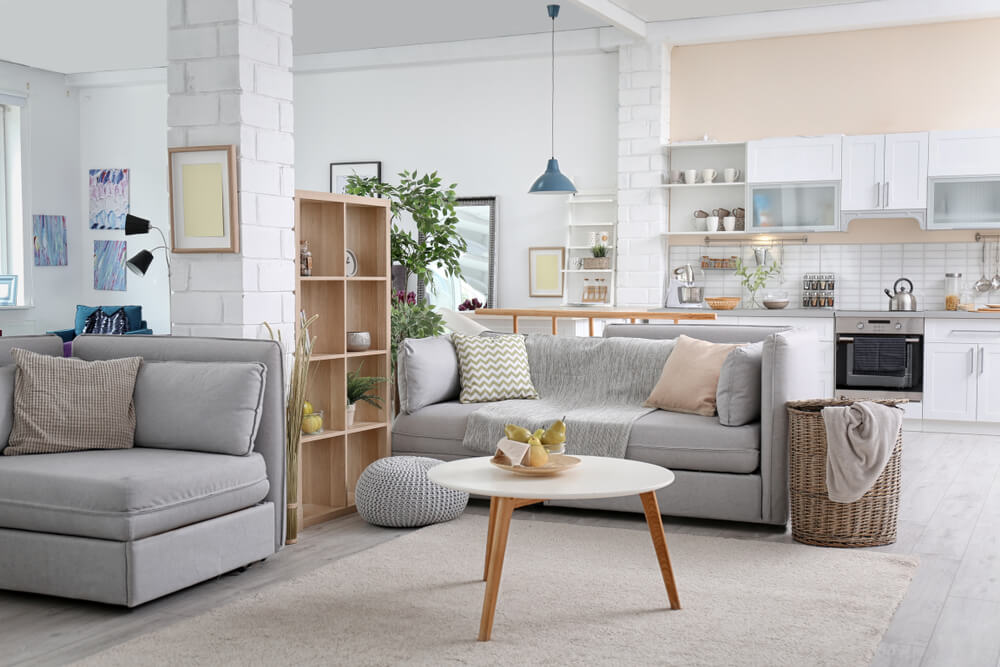 How Does a Portable Indoor Generator Work?
Portable indoor generators operate similarly to large outdoor generators. They can keep small appliances, essential medical devices, and electronics operable during power outages.
Indoor generators are battery-powered, so they do not emit harmful fumes when working, but need to be recharged to continue to work.
Pre-Purchase Considerations for Getting the Most Out of Your Portable Indoor Generator
You should store your indoor generator in a dry, room temperature part of your apartment or condo when you are not using it. Storing your generator in a safe environment will prevent fluctuating temperatures that cause the battery to drain and will ensure it is not damaged from water.
If you plan to use your portable generator outdoors or are looking for an environmentally-friendly alternative to charging your generator, you should also consider purchasing a solar panel to charge your unit.
The Bottom Line
Owning a small generator for apartment and personal use will not replace the amount of power than an outdoor generator, or full electricity can provide. However, they can help ease stress by keeping small appliances and electronics running during power outages. Some models even include flashlights with SOS programming to use during emergencies.
Purchasing a portable indoor generator is a relatively inexpensive investment that provides battery-operated power support when needed. Still, it is compact enough to be stored in a closet or small space.
Frequently Asked Questions
Here are a few common questions about indoor generators.
Are indoor generators safe to use?
Unlike a large outdoor generator, a portable indoor generator uses batteries to keep small appliances and electronics running during a power outage or camping trip. They do not emit harmful fumes and can be used inside. While these small generators are often built with cooling fans, monitoring them is crucial to ensure they are not overheating when indoors.
What is the best indoor generator?
Different generators can suit different needs. To protect yourself and your family, be sure to look for an indoor generator for apartments that has surge protection and can cool itself internally. If you are looking to charge more than one device at a time, look for different types of outlets and USB ports.
What devices can a portable indoor generator charge?
All of the generators on this list can charge devices that operate from 300W to 500W and offer some overcharge protection. You can safely charge cell phones, laptops, smaller TVs and lights, mini-refrigerators, and CPAP machines with an indoor generator for apartments.
How do you recharge a portable indoor generator?
You can recharge these portable power units using a wall outlet or carport. You can also recharge many of these units by purchasing and using a small, portable solar panel.
Can portable generators be used while they are being charged?
Be sure to check the specific manufacturer FAQs to see if your generator can charge other devices while being charged. Typically, the AC ports cannot be used while the generator is charging, but the USB ports remain functional.
Which batteries are used to operate an indoor generator for apartments?
Most units on the market today use lithium-ion batteries.