Disclosure: This post may contain affiliate links. This means that at no cost to you, we may earn a small commission for qualifying purchases.
Last Updated on January 17, 2022
You have your dream business: a food truck catering to those who love food, festivals, and fun as much as you do.
You get your rig together, permits in place, and the final piece is finding a generator to power everything you need.
Too busy for the full read? Here's the BEST GENERATOR in September 2023
Honda EU7000iS Generator
– The quietest GENERATOR available. It's super-secure, is easy to use, long-lasting, and affordable.
Check the Price Here
Quick Comparison
If you don't have time to read the complete article, check out our favorite products below.
Short on time? Here Are September's Best Food Truck Generators
What Are the Power Requirements for a Food Truck?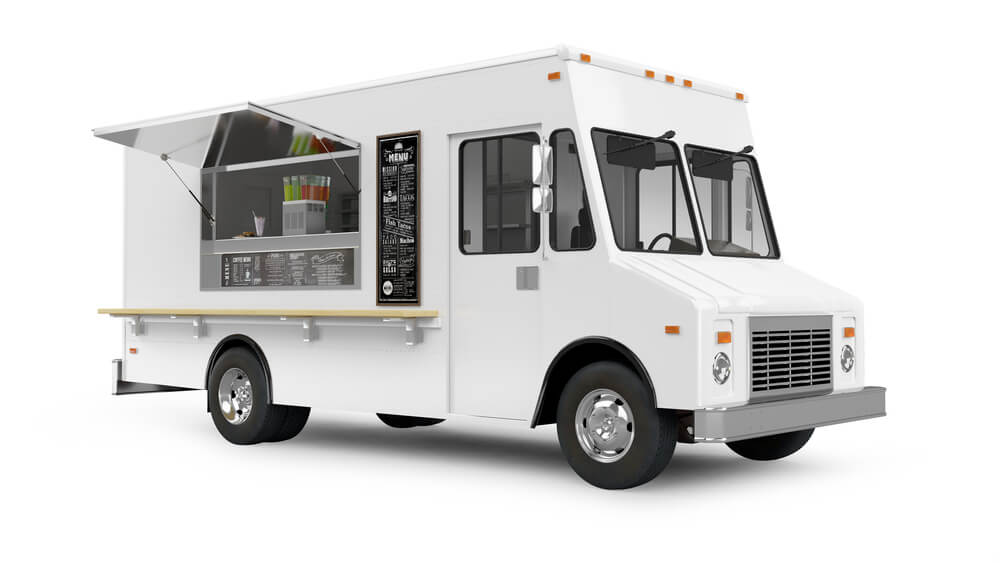 When looking at a generator, you need to consider what specific power requirements you need for your food truck.
Considerations include how many appliances you'll be running, if you want to run an AC unit for your food truck, and if you need to run items such as lights and themed decor.
According to Apex, a specialty vehicle manufacturer, you need at least 2900 watts of power equipment to run everything in your food truck.
They also point out that there are two different kinds of electric load types, resistive loads and reactive loads.
They state that resistive loads are electronics that take the same amount of power to run as they do to startup, things such as:
Light bulbs
Toasters
Microwave ovens
Coffee makers.
Reactive loads need more power on the initial startup, but once they begin running, they use less energy. A couple of examples of reactive load electronics are appliances such as:
Refrigerators
Blenders
Air conditioners
Apex includes on their site a handy list of electronics and what their power needs are. Take a look at their list here.
What Features Should You Consider For Food trucks?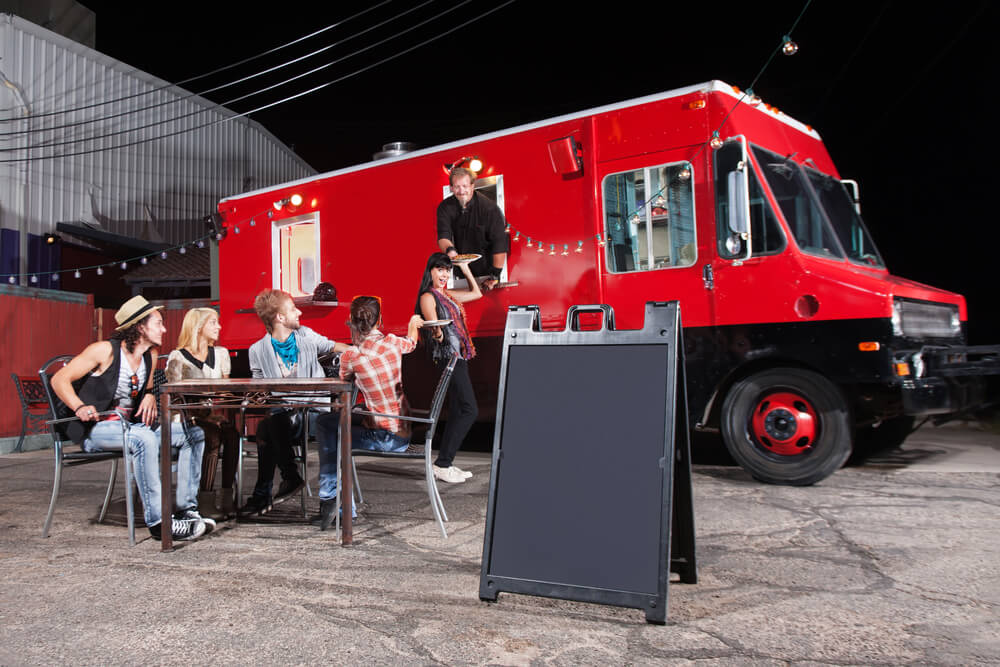 Generators have many features. Some fall into the must-have category while others are firmly in the nice to have category but not necessary for operation.
Having features like electric start and dual fuel flexibility can be very helpful especially when you are running a food truck. Having the right generator for food trucks is an absolute necessity.
Generator Types
There are also many different types of generators. According to Food on a Truck, you can choose from a conventional generator or a generator that has an inverter.
1. Conventional generators' features
They are your primary generator
They have a motor and an alternator which are used to produce power
They need constant RPM, and any fluctuation will affect energy flow to your appliances
They tend to have a higher amount of power output
They do run for a more extended amount of time
You cannot use them and that parallel operation
These generators are larger and weigh more than inverter generators
The price tag on conventional generators is also lower
2. Inverter generators' key features
They are newer on the market
They use multiphase power equipment and advanced circuitry
They are more fuel-efficient
You can adjust their engine speed based on how much energy your running
They are generally lighter in weight and is a portable generator.
They are quieter and with less vibration
Inverter generators have a decent run time for their size
The price tag is much higher than conventional generators
Both of these run off either gas, diesel, or propane to produce your energy.
Noise Considerations
Noise level is also a feature to take into consideration. If your generator is too loud, it may be challenging to do business with your customers.
If this is a pressure point for you, you will want to search specifically for generators that run at a low decibel output.
That way, the environment of your food truck is comfortable for both you and your clientele. Some cities are even requiring food trucks to have a specific decibel level.
Make sure you check with yours to see if there are any noise level requirements before you purchase your unit.
Noise level is an important factor you must consider because a loud generator can be a turn-off for your clients.
Energy Efficiency
Energy efficiency is also an essential factor for food trucks. You will want to have a unit that provides you with the most amount of power and will take up the smallest amount of space.
It is space prohibitive to carry extra fuel tanks around, especially when you would rather use your storage space for additional products.
When looking at generators, search for a unit that will give you the max amount of runtime without needing to have backup power/ fuel.
Convenience Features
Dual fuel options are convenient because it gives you the ability to choose between gas and propane depending on your preferences and set up for the day. Propane is a more efficient fuel and is generally less expensive.
If your generator has a carburetor, propane is gentler on the generator's system. Remote starts are also nice to have for a quick setup. Most electric start generators have a remote option.
4 Best Generators For Food Truck (& Trailers)
When looking for a generator for your food truck/trailer, you need something that is efficient, long-lasting and has enough power to run all your appliances and keep your food truck in the business.
There are many generator options out for food trucks on the market, but not all are created equal. Here is a list of our top choices for your food truck.
1. Westinghouse WGen7500 Portable Generator for Food Trucks
The Westinghouse WGen7500 is a small but mighty portable generator that comes with an OHV engine.
With 9500 peak watts and running watts of 7500, you have plenty of energy to run your food truck, and is the best quiet generator for a food truck business and is the best portable generator you can get your hands on.
Safety was top of mind for Westinghouse with built-in features such as a spark arrestor, and two GFCI receptacles to protect against overloading.
The twist and lock receptacle ensures that the cord is securely in place and will not rattle loose. It comes with an open frame, meaning it does not block the noise level.
All of the outlets also have rubber covers to protect them from any debris getting in. The oil reservoir has a low oil indicator and will auto-shutoff if it detects levels are too low or if the oil has reached the maximum allowed temperature. It also has an easy to access gas shutoff.
SPECS
The automatic unit has a push-button start and is delivered ready to go with:
It has a four-stroke overhead-valve engine, which gives you maximum power
It has 120, 240v outlets
The generator's fuel tank holds 6.6 gallons of fuel, which provides it with a longer run time
The larger fuel tank allows the generator to run at 50% of capacity for 10 hours
The digital fuel gauge will enable you to check the fuel level at a glance
This generator is also fuel-conscious and comes with a cold start technology.
Built-in mufflers to keep the noise level at 64 decibels
Surrounded by a protective steel cage to keep all the vital parts secure
Cast iron sleeve secures the gas tank
Other Features
Remote start
Included initial can of oil with an oil funnel
Easy to read manual
EPA, CSA, and CARB certified
A limited 3-year service, parts, and labor warranty through the manufacturer
PROS
Run time is 16 hours
Easy to assemble right out of the box
Generator power does not fluctuate with an increase of use
Has built-in safety features Manufacturer warranty
CONS
Heavy unit to move, though the attachable wheels help
Open Frame design does not block the noise level
2. Honda Generator EU7000iS – Super Quiet Generator For Food Trucks
Too busy for the full read? Here's the BEST GENERATOR in September 2023
Honda EU7000iS Generator
– The quietest GENERATOR available. It's super-secure, is easy to use, long-lasting, and affordable.
Check the Price Here
If you want to operate in whisper mode, this is the generator for your food truck. The Honda Inverter Generator Eu7000is has an enclosed motor that allows it to be a quieter unit. Its sound comes in between 52 to 58 decibels.
Quiet generators for food trucks are always a viable option. Note that there is no 12v dc outlet, meaning the utility of the generator reduces for some purposes.
It also comes with a high fuel efficiency with low noise levels, also this is a lightweight generator that makes it easy to carry around. This is the best 7000 watts generator you can get your hands on.
The generator also has many safety features, including the two GFCI outlets. Each of these outlets is 20 amps. There also are 120-volt duplex outlets. It features an auto-shutoff when it detects that the engine oil level is low.
This Honda generator has a monitoring system that allows you to keep track of run hours, running watts, and engine speed.
This digital monitoring system also allows for easy diagnostics if you need to take your generator in for dealer servicing or maintenance and is perfect for food trucks. This is one of the best quiet generators out there.
SPECS
This inverter generator comes with 5500 running watts with 7000 watts at peak
Gas-powered with an electric start. Insert the key, press the start button, and you are ready to go
Exhaust and radiator cooling in the rear of the generator
1 gallons gas tank
This Honda inverter generator has enough fuel efficiency with a run time of 18 hours on low capacity
The inverter generator allows it to provide a stable running power source without fear of surges harming your electronics or sensitive equipment
Honda Inverter generator has built-in circuit breakers to prevent the generator from being overloaded
Fuel gauge for consistent fuel monitoring
USDA approved spark arrestors
Built-in switch to select 120 volts stand-alone, or you can choose to use both 120 v,240 v 30a
Other Features
Handles for ease of mobility that can also be folded for storage
Pull cord backup
Comes with a 120v 20a outlet.
Mufflers to ensure the unit is quiet during use
Attachable wheels for more effortless movement
3-year residential and commercial manufacturer warranty
Meets ETL and NEC requirements
Can add-on a parallel kit to combine two of the EU7000is' if you need upwards of 14000 watts of running power
PROS
Fuel Injected
Eco-mode
18 + hour run time
Low noise levels.
3-year manufacturer warranty for commercial
CONS
Backup pull-start takes effort to pull
This is a more expensive unit; however, you do get what you pay for
There is no 12v dc outlet.
3. Westinghouse iGen4500D
If you want to keep your fuel options open, you may want to look into the Westinghouse iGen 4500DF.
This gasoline generator comes with 3700 surge watts, this machine can be used with gas or propane without the need for a conversion kit.
Just flip a switch on the back of your generator, and you can choose your preferred fuel. We feel this is one of the finest generators for food trucks.
It features a variety of outlets and a 12V DC outlet for charging batteries and this is the generator you need.
SPECS
In terms of power, It powers at 3700 surge watts and 4500 starting Watts
18-hour estimated runtime with a 3.4-gallon gas tank
Fuel-Efficient model giving up to 18 hours of run time with 25% load.
It also is a quieter generator running at 52 decibels
It has a 20 amp and 30a locking outlet.
120 volts outlets that come with covers to protect them from debris getting inside
It also has 120v 20a and 120v 30a (TT-30R) outlets that have protective covers as well
For safety features, it has a low oil indicator as well as an overload indicator. The generator does have a button reset conveniently located on the back if it does become overloaded.
Other Features
It comes with an electric start that is electronically powered
It also has a recoil start backup
Light to alert you to when the generator is ready to start
LED control panel to monitor fuel level, power equipment output, runtime, and voltage output
The Control panel also allows you to monitor the lifetime hours of your generator
A convenient feature of this model is the two USB ports on the backside
EPA, USFS, and CARB compliant
Not one year but a limited 3-year warranty that covers labor parts and services nationwide
PROS
It is a dual fuel generator so you can use gas or propane
Fuel-efficient generator eco-mode giving you up to 18 hours with a tank capacity of 3.4 gallons of fuel
Low noise levels at 52 decibels
Telescoping handle for easy moving
LED info center so you can keep track of the units stats.
CONS
Running watts are the same for both gas and propane
Warranty is limited, not comprehensive.
List Element
It has a very modest power output.
4. DuroMax XP – Super Large Generator For Food Trucks
The DuroMax XP is a sturdy unit with a reliable engine. In terms of power, this 18 horsepower engine can run off of gas or propane, giving you more flexibility.
This generator also perfectly fits as one of the finest food truck generators. It features multiple outlets that can handle heavy-duty appliances like an air conditioner, refrigerators with ease.
SPECS
18 horsepower 457cc over-hand valve engine
12,000 starting watts and running watts at 9500 will provide a significant amount of power for refrigeration, lights, and high amp electronics
The unit is complete metal construction with windings made of copper
Tank capacity can hold up to 8.3 gallons of gas
There is a heavy-duty 120, 240v outlet rated for 50 amps
Two 30 amp twist locks, one for both 120/240 volts, and the other for 120 volts
Two 120 volts 20 amp outlets
The unit weighs around 235 lb fully assembled
Measures 30 inches by 27 and 1/2 inches tall
The DuroMax also features a control panel that has indicators to measure your volts and alert you when your oil is low. The panel also has circuit breakers, a control for your idle, and the MX2 switch, which is specific to the DuraMax brand.
Other Features
Propane fuel option makes it cleaner burning and more fuel-efficient
Propane also has a longer shelf life and is easier on the carburetor
Noise level limiting muffler and a spark arrestor built-in to promote a smoother and quieter runtime
The DuroMax can be used in all 50 states as it is EPA and CARB certified
It also has a 3-year manufacturer warranty
PROS
Certified in all 50 states
Dual fuel for flexibility
3-gallon fuel tank
Easy to pull backup pull-start
Wheels and pull handle for easy maneuvering
CONS
Key start
Need to be maintained as suggested by the manufacturer
Other Factors to Consider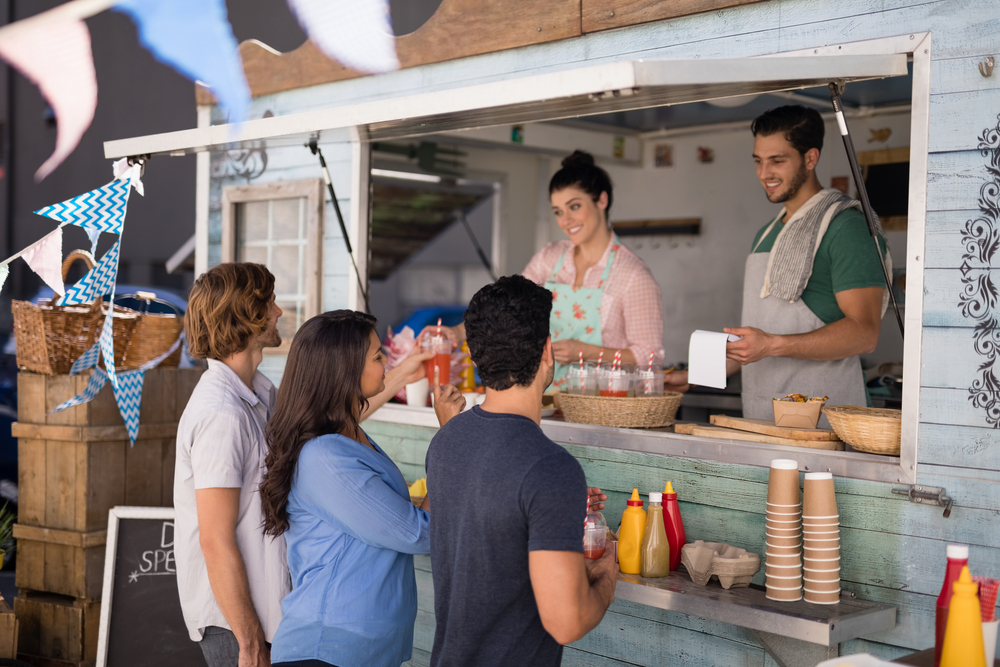 You also need to take into consideration the rules for the state and counties that you plan on operating in. Many states have their own set of rules in regards to generators and what features they need for you to be compliant.
In these areas, if you are not compliant, you can face a hefty fine. On top of a fine, you can also risk getting shut down for the day and not being allowed to operate until you comply.
Before buying your generator, look at its EPA ratings, its CARB ratings, and its emission standards. All of those can be critical factors in your generator choice, especially since many areas have green initiatives in place.
It is best to have all those pieces squared away before you click that buy button.
1. Generator Installation
Another thing to keep into consideration is where you are going to install your generator. If your food truck has a compartment already built-in for storage, you will need to know its exact measurements and ensure that your top pick will fit.
If you do not have a built-in compartment in your truck, you may need to look into modifying space to install your generator
Making sure that your generator is adequately ventilated is also essential not only for the proper functionality of your generator but for the safety of yourself and your customers.
It is wise to make sure that you have your generator installed by a professional.
Professionals can make sure that all of the electrical wirework and mechanics are connected correctly and that the machine will function properly.
Electricians are easy to find, and many have a lot of experience with generator installation. A permit also may be required to install your generator in your food truck. A professional is an excellent resource to lean on to make sure you have all those extra pieces in place too.
An electrician will also be able to give you an idea if the model you are looking at is capable of fulfilling all your requirements in your food truck.
Many will also help you choose the correct model. They will also ensure that you know how to operate it properly and should be able to answer any questions you may have.
2. Generator Maintenance
You will also want to look at if any maintenance needs arise if you need to take your unit to a licensed mechanic who is certified to operate on that particular generator.
It may be prudent to know ahead of time if there are any license dealers in your area to save you on time and additional travel in case any maintenance and service issues arise.
Concession Nation suggests that you make sure you are familiar with the generator's operating procedures and ensure that everyone who works in your food truck knows how to manage the generator as well correctly.
Improper use can affect the overall performance of the generator and shorten its lifespan. Also, make sure to keep a maintenance schedule and follow the manufacturer's instructions.
This prolongs the life of your unit and will generally keep your warranty intact. Make sure you thoroughly read and understand a manufacturer's warranty.
3. Weather Considerations
Remember that your generator is not completely weatherproof. If it is not in a compartment within your food truck, it will need a cover, especially if there is heavy rain.
This way, your vehicle will still function at max power, and you will not have to worry about your unit breaking down on you.
You may want to consider having the unit inside your food truck in a compartment for the weather, safety, and ease of use.
Generators are heavy no matter which model they are and can be challenging to load and unload regularly.
Having a model that you can put into a compartment in your truck and or create a space for may be well worth the price tag.
FAQs
Making a purchase as large and specific as a generator brings a lot of questions. Here are a few FAQ's
Can The Generator be Fully Enclosed?
Generators need airflow to function correctly. As a general rule, there should be airflow on at least two sides of your generator to prevent overheating and engine failure. This also may void your warranty.
Can I Mount it on My Trailer Tongue?
There are a few different factors to take into consideration. According to Concession Nation, you can secure it to your tongue.
You will need to calculate the added weight to see if you need a heavier-duty support jack.
How Much Oil Will the Generator Need?
Use your dipstick to check your oil levels to give you a better idea of how much oil your model needs.
If your generator does not have a dipstick, there should be a fill like inside the oil tank, which you will see when you take the lid off.
Does the Generator Require a Specific Oil?
According to Concession Nation, you should always consult your user manual for oil specifics.
However, based on operation temperature, they recommend:
SAE 30 is rated for 40°F and up and is an excellent standard oil
10W-30 is better when you have a variable outside temperature, but tends to increase oil consumption
Synthetic 5W-30 is a decent option for variable temperatures that will not quickly consume oil
5W-30 is excellent for use during the winter and comes with a cold start technology as well.
How big of a generator do I need for a food truck?
To run basic equipment like refrigerators, blenders, and microwaves, a food truck requires a least of 3000 watts or 25 amps. If you plan to run numerous appliances, however, a generator with a bit more power, between 4000-7000 watts, is recommended to offer you additional leeway.
How much power does a food truck need?
If a truck has a lot of electrical equipment, it will require a generator with additional power, ranging from 5000 watts to roughly 7000 watts. Getting the correct combination of gas-run and electrical-powered equipment is an excellent way to go about powering a food truck.
Key Takeaways
When choosing your generator for your food truck, make sure you do your homework on what the requirements are for your area.
Also, make a list of all the electronics you need to run to get an exact count of the running watts you will need.
When you get those requirements in place, then you can narrow down your options to those that will make your food truck operation smoother.
Remember that the initial cost of getting a generator for your food truck may seem expensive.
However, it may be far less than the lost revenue you could have if you did not have the proper generator for your food truck, and you had to close up shop.
Always err on the side of caution and choose a model that has more power than you need instead of getting a model that has just enough.