Disclosure: This post may contain affiliate links. This means that at no cost to you, we may earn a small commission for qualifying purchases.
Last Updated on February 16, 2022
Whether you want to power your house in the event of an emergency outage or bring a lot of power along for your upcoming RV trip, it's essential to pick the best inverter generator to check all the key items off your wish list.
It doesn't matter if you're just now considering purchasing an inverter generator or you've been scouring the internet for ages but haven't landed on the right one, you've come to the right place.
Too busy for the full read? Here's the BEST GENERATOR in September 2023
Generac 7117 Generator
– The best GENERATOR online. It's compact and lightweight. Built for excellent fuel economy and noise reduction and value for money.
Check the Price Here
Keep reading for the top inverter generators on the market currently, plus a detailed buyer's guide to making the purchase process of inverter generators just that much easier. Have a look at our Top Picks
Quick Comparison
If you don't have time to read the complete article, check out our favorite products below.
Pre-Purchase Considerations For Inverter Generators
Check out the top pre-purchase considerations and inverter generator elements you need to know before making your purchase. You won't want to miss these!
1. Determine what your generator needs are
Will you be bringing the generator on the road with you for trips, or do you need a backup generator in case of an outage?
Once you identify your generator wish list, you can determine the power wattage you'll require.
2. Decide whether you want a compact generator or a small generator
What's the difference? Well, a compact generator usually offers 800 to 1,000 watts of power, which is enough to power one or two devices, but not much more.
A small generator, on the other hand, usually sports between 1,600 and 2,000 watts of power and lets you power more than just a couple of appliances at once.
If you want to keep an appliance like an RV air conditioner running, you'll need a medium inverter generator with a slightly higher wattage than a small generator.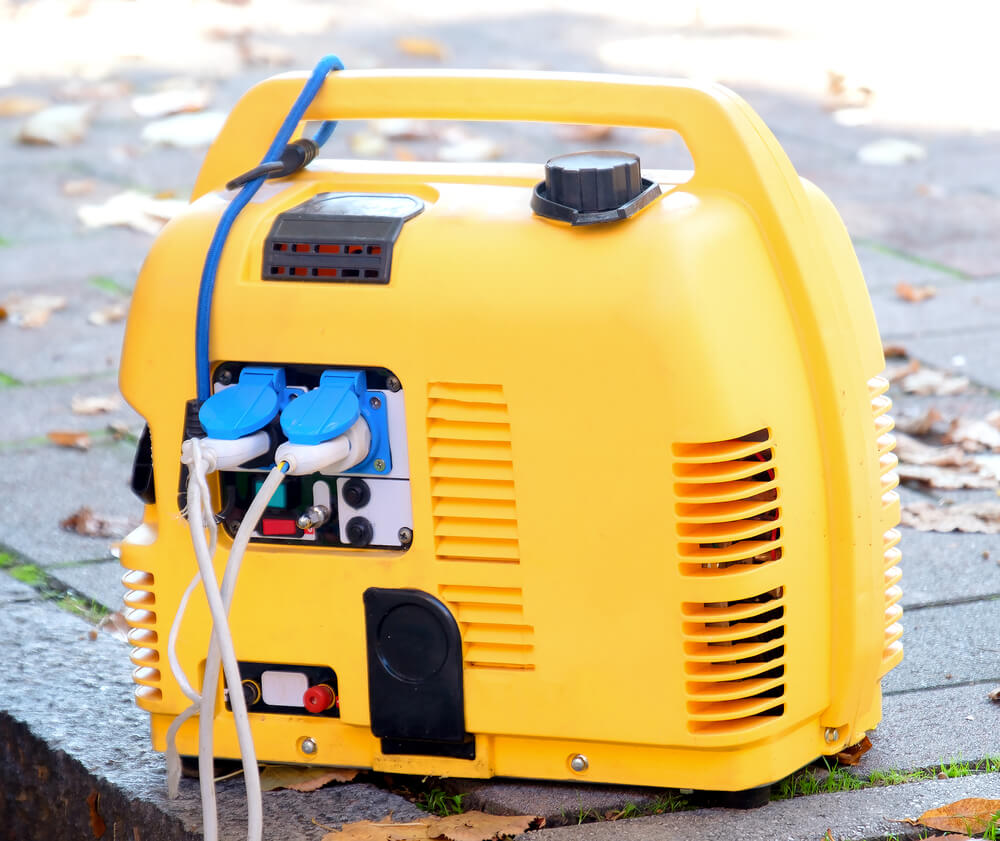 Best Inverter Generator Reviews 2022 – Which One Is Right For You?
1. Honda EU2200i Quiet Portable Inverter Generator
The first best inverter generator to make it to our list is this Super Quiet Portable Inverter Generator by Honda.
With noise levels between 48 and 57 dBA, plus a run time of 4 to 9.6 hours on just one tank, this portable inverter generator is a force to be reckoned with.
We feel this is one of the best inverter generators out there. Remember that this is not a dual fuel portable inverter generator.
One thing we really liked about the Honda EU2200i inverter generator is the fact that the ignition system remains active even once you switch to "fuel off".
So, even though the fuel valve is shut off, the honda EU2200i engine keeps going until the gas in the fuel line has completely run its course.
The great thing about this feature of the Honda EU2200i is the fact that it keeps excess fuel from jamming your carburetor, particularly if you intend to keep your generator for long-term storage.
The power is quite average for an inverter generator with 1800 watts running power and 2200 watts of surge power
The Honda EU2200i inverter generator features a DC receptacle so users can charge 12-volt batteries, but we were disappointed to find that the product does not come with a charging cable.
So, if you intend to use your generator for automotive batteries or similar, you will need to make a separate charging cable purchase.
The inverter generator is also lacking in either a remote starter or an electric starter. If you prefer the recoil kind though, you're in luck.
SPECS
Not one year but comes with a 3-year commercial warranty
3-year residential warranty
GXR120 engine
121cc engine displacement
4000 to 4500 rpm engine speed
8:5:1 compression ratio
Forced air cooling system
Recoil start
95-gallon tank capacity with fuel efficiency
2 hours of run time at rated load
1 hour of run time at a quarter load
20 x 11.4 x 16.7-inch dimensions
5 dry weight
20A 120V duplex receptacles
120V/2200W (18.3A) maximum AC output
1800W (15A) rated output
PROS
3-year warranty for both commercial and residential users
Impressive GXR120 engine power
Active ignition system to prevent fuel buildup
CONS
Does not include charging cable
Recoil starter only
Not a dual fuel generator
2. WEN 56200i 2000 Watt Inverter Generator
Second on our list of the best inverter generators is a low noise product by WEN.
The WEN 56200i Super Quiet fuel-efficient inverter generator is one of the quietest on the market currently, making it a fantastic choice if you do a lot of camping or RV trips.
With clean 2000 surge wattage and 1600 rated wattage, you'll get a lot of use out of this inverter generator and keep all your devices powered up too.
We feel this is one of the best inverter generators out there also the fuel efficiency is great.
If you go camping often and need an inverter generator that won't wake anyone with its loud engine, the WEN 56200i Super Quiet inverter generator emits only 51 dBAs when you run it at 25% output.
Even if you run the inverter generator at 75%, you'll still only hear about 55 decibels of sound which is much quieter when compared to others.
The US Department of Health and Human Services has declared that the silence of this generator is on par with the level of noise from a normal conversation. In short, you won't be waking up any fellow campers with this inverter generator.
We love that the WEN 56200i is both CARB and EPA III compliant, and it emits energy that is friendly to the environment.
You can run the generator for 4 hours at 100% output and 6 hours at 50%. We feel that the output rate is lower than some other products on the market, but if you don't need to charge for longer periods you'll be just fine.
SPECS
1600 watt running output
2000-watt maximum power output
Weighs 48 pounds
Uses wave technology
18 x 11 x 18 dimensions
7cc OHV engine with 4-stroke capacity
5V USB port
12V DC port
3-prong 120V receptacles
Low oil level signal
CARB and EPA III compliant
2-year warranty
PROS
Eco-friendly energy
Safe for sensitive devices
Very quiet when in use
Works for a wide range of outdoor uses
Easy to maneuver
CONS
Shorter output period
Lower wattage device
Not a dual fuel generator
3. Champion 4250-Watt RV Ready Generator
The 4250-Watt RV Ready Generator by Champion is silent and light to carry, with an impressive dBA of only 58.
This champion power equipment offers you as many as 22 hours of running time if you operate at a 25% output, making it an excellent choice for on-the-go power.
We feel the champion power equipment is one of the best inverter generators out there. It also includes a wireless remote start and it has a long run time and impressive power.
If you need backup power on the go, the 4250-Watt RV inverter generator by Champion is an excellent candidate for your shortlist. With its user-friendly touch panel, you can monitor your generator's operation in one location.
The low oil shut-off sensor prevents your generator from becoming overheated or overcharged.
We noticed that the engine has a smaller oil capacity than some other products, but this is to be expected with its slightly reduced engine size. Even so, you'll still enjoy as many as 8 hours of total run time if you keep your generator on a quarter output.
Again, if you need a quiet generator for activities like tailgating and RV trips, the 58 dBA noise levels of this device are ideal.
You can also use this inverted generator to keep your larger tools and devices powered up all day long as well. The generator does not have an electric or remote start as some devices do, so you'll have to contend with the standard recoil cord kind.
We really like that this generator only uses clean power with under 3% THD and Economy Mode to increase the longevity of your engine.
SPECS
120 volts
60Hz frequency
4250 starting watts
3500 running watts
8A starting amps at 120V
3A running amps at 120V
Up to 22 hours of run time with a quarter load
64 dBA noise level
Automatic Voltage Regulation
120V 30A (TT-30R) outlet
120V 20A Duplex (5-20R) outlet
12V DC outlet
Recoil start
224cc engine size
4-stroke engine
Powered by 10W-30 gasoline
6-quart engine oil capacity
Low oil shutoff capabilities
CARB and EPA compliant
3-year limited warranty
PROS
8 hours run time at quarter output
Environmentally-friendly economy mode and energy usage
Very low DBA noise levels
Flexible outlet choices
Uses clean power
CONS
No electrical or remote start options
Smaller oil capacity
4. Briggs & Stratton 30675 Q6500 Portable Inverter Generator
The Briggs & Stratton 30675 Q6500 fuel-efficient Generator sports an impressive 6500 starting watts and 5000 watts of ongoing power which is enough to run small household appliances.
With a large 5-gallon gas tank, you'll enjoy as much as 14 hours of run time when you keep the generator running at 25% output. We feel the Briggs & Stratton is one of the best portable inverter generators out there.
Overheating and overloading shouldn't be a problem either thanks to its air-cooled engine and circuit breaker. This should be a perfect choice for all the households where there are occasional power outages.
The Q6500 Generator is a great option if you need to charge large devices for longer periods. With a 6,500 starting watts and 5,000 watts of ongoing power, you'll have much longer periods in between charging.
The 306cc engine has enough power to power up large tools and essential appliances. We especially like the impressive 5-gallon tank size, which ensures your fuel lasts all day long.
The generator also features a user-friendly fuel gauge and power meter so you can monitor usage as you need to.
While we wish the decibel rating was a bit lower for this device, it is still pretty quiet due to its steel frame that helps muffle all engine noise.
You can use this generator for everything from highly sensitive electronics to large appliances in the event of a power outage.
SPECS
Runs on gasoline
6500 starting watts
5000 running wattage
Runs for 14 hours at a quarter load
5-gallon fuel tank size
66 DBA noise level when running at a quarter load
Weighs 128 pounds
25 x 21 x 21 inch dimensions
4-cycle engine
306cc engine displacement
Two USB ports
One 240V/120V (30A) outlet
Four 120V (20A) outlets
Recoil start
EPA compliant
2-year limited warranty
PROS
Excellent 2-year warranty
Works with multiple outlets
Can last for up to 14 hours at a quarter output
CONS
Heavy to lift
Decibel rating could be loud for some preferences
5. Generac 7117 GP2200i 2200-Watt Portable Generator
If you're looking for a compact inverter generator that you can easily transport with you, the Generac 7117 GP 2200i portable generator is an excellent option.
This portable generator is incredibly easy to use with a built-in handle and economy mode to help you save on fuel.
Plus, these portable inverter generators provide 2200 watts of starting power and 1700 running watts. We feel this is one of the best inverter generators out there.
The Generac 7117 portable generator can keep your devices running all day and into the night with 1700 watts of running capacity and an initial surge of 2200 watts. The generator is compact, making it easy to transport from work or when camping.
You can also use these portable generators to power up your appliances and sensitive mobile devices in the case of an unexpected power outage.
We found the 1.2-gallon tank to be pretty small when compared with other inverter generators, but you'll still enjoy 7 hours of running time at as much as 50% capacity.
If you use these inverter generators every day, you can easily get anywhere from 10 to 12 hours out of a single gas tank.
The eco-mode of these inverter generators will help you reduce your fuel consumption and muffle the noise levels too.
SPECS
80cc engine
Weighs 46.6 pounds
2-gallon tank
Economy mode
Covered outlets
2200 starting watts
1700 running watts
Runs for up to 7 hours at 50% output
Runs for up to 10.75 hours at 25% output
Enclosed generator to muffle engine noise
LED indicators to let you know if the device or overloaded or low on fuel
Includes USB port to charge mobile devices
2-year limited warranty
PROS
Sufficient wattage capabilities
Excellent running time
Powers both large and smaller, sensitive devices
User-friendly handle for easy transport
CONS
Small engine
Less gallon capacity than some other products
6. Yamaha EF2000iSv2 Inverter Generator
The next best inverter generator on our list is very compact and lightweight while offering an impressive 10.5 hours of running time at a quarter output.
For these inverter generators, Noise levels vary, but even at 100% output, they don't go beyond 61 dBA. We feel this is one of the best inverter generators out there.
If you're looking for a very lightweight, compact, and quiet inverter generator, the Yamaha EF2000iSv2 could be the one for you. Also, these inverter generators run at 1,600 watts, with a 2,000 watt start time.
These inverter generators also feature an air-cooled, 4-stroke engine that keeps the device from overheating. You can run these inverter generators for up to 10.5 hours at 25% output on a single tank of gas.
We like the Smart Throttle element that adjusts the machine's engine speed based on its load, which translates to a more fuel-efficient run time and less noise.
With its muffler, the machine has a decibel level of only 51.5 when running at a quarter load, so you'll barely hear a thing.
Another aspect we like about the Yamaha EF2000iSv2 inverter generators is its stable power that works well with very sensitive devices such as mobile phones or computers.
However, we don't feel that these inverter generators are ideal for larger appliances that require heavy amounts of power. Thought has also been put into the fuel tank with a fuel gauge, gasoline petcock and runs efficiently.
SPECS
1,600 running watts
2,000 watts starting power
Runs on gasoline
Runs for up to 10.5 hours at a quarter output
Weighs 44 pounds
1-gallon tank capacity
19 x 11 x 18 inch dimensions
Two 120V 13.3/16.7 A outlets
One 12V 8A outlet
Recoil start
5 dBA noise level at a quarter load
61 dBA noise level at full output
79cc engine displacement
4-stroke OHV engine
Single-cylinder
3-year limited warranty
CARB, EPA, and CSA compliant
PROS
Super lightweight and compact
Charge multiple devices (even sensitive ones) at once
Extensive 10.5 hour run time at a quarter output
CONS
No LCD display on the control panel
Insufficient electricity for power heavy-duty appliances
7. Ford FG2200iS 2200W Silent Series
The inverter generators by Ford are also lightweight and compact, weighing only 46.3 pounds.
These inverter generators have a mid-range dBA noise level of 59 and these inverter generators are perfectly safe to charge all your sensitive electronics in the event of an outage. We feel this is one of the best inverter generators out there.
The Ford FG2200iS's starting power of 2,200 watts is enough to power a room air conditioner or medium-sized refrigerator.
These inverter generators would also be sufficient to power a computer, mobile device, TV, or microwave. So, you can definitely keep multiple devices charged at once.
We would say that this inverter generator is probably not going to be enough to keep very large appliances that drain lots of power going for long periods though.
The gallon tank capacity for these inverter generators is small, but you will still enjoy as much as 6 hours of run time at a 50% power output.
If you're tailgating or camping, you probably wouldn't need to use anywhere near that much power output at one time, so these inverter generators could last you in those scenarios anywhere from 12 hours and beyond.
You can also keep tools at a construction site powered up as well. Of course, larger tools will drain your battery much faster. The inverter generators by Ford FB2200iS definitely have some major features going for them.
For one thing, these inverter generators are very easy to use and maintain. It starts like a breeze but also features a handy control panel.
The multiple outlets make for flexible charging, plus the LED indicator of these inverter generators will help ensure you keep track of fuel levels and avoid generator overload.
SPECS
2,000 running watts
2,200 starting watts
18-gallon tank capacity
Provides 6 hours of run time when operating at 50% output
Comes with a 12V charger, spark plug wrench, oil bottle, and funnel
80cc engine
59 dBA noise level
2-year warranty
Two 120V AC outlets
One 12V DC outlet
One 8A outlet
One 5V DC USB outlet to charge mobile devices
Circuit breaker overload protection
LED indicator lights
PROS
User friendly
Helpful control panel and LED display
Good for charging sensitive devices
Excellent run time for lower power output
CONS
Small gallon capacity
Much shorter run time for more powerful devices
8. Pulsar 2,000W Portable Gas-Powered Quiet Inverter Generator
While the Pulsar Portable generators which are gas-Powered Inverter Generators offer a mere 1.18-gallon capacity, you can enjoy a run time of up to 8 hours at 50% output.
Plus, the 59 dBA noise levels are quiet enough that you won't disturb anyone when tailgating or camping in the great outdoors. We feel this is one of the best inverter generators out there.
The Pulsar 2,000-Watt Generator offers a satisfactory 2,000 watts of startup power and 1,600 watts of continuous energy.
The 1.18-gallon capacity is definitely smaller than other options, but it still provides as much as 8 hours of continuous operation with a 50% load.
For things like camping and tailgating, you probably won't even need to use a 50% output, and so you can enjoy a much longer power supply.
These inverter generators feature a handy suitcase design and weigh just 47 pounds, so just about anyone can lift and transport the machine with total ease.
The 59-dBA noise level is a bit higher than we would like, but still, these inverter generators are quiet enough that it won't cause annoyance.
The Pulsar inverter generators are perfect to charge your sensitive devices such as laptops and cellphones, with multiple outlets so you have flexible charging options.
You could also charge smaller household appliances with the Pulsar inverter generators, but larger equipment will probably drain these inverter generators pretty quickly.
These inverter generators also have a recoil start, so if you don't mind not having an electric start or remote switch, you're good to go.
SPECS
1,600 rated watt power
2,000 starting watt power
59 dBA noise levels
Two 120V AC outlets
One 5V DC USB outlet
ONe 12C DC 8A outlet
80cc OHV engine
18-gallon tank capacity
Provides up to 9 hours of run time at 50% output
Compact design
Low oil signal
Recoil start
Comes with spark plug wrench, charging cable, funnel, and 10w30 oil bottle
1-year limited warranty
PROS
Excellent for charging sensitive devices
Good run time at 50% output
Mid-range dBA levels for quiet engine operation
Multiple outlet options for a range of charging needs
Easy and lightweight to carry
CONS
Not ideal for larger or high-power appliances
Could wear out quickly if used extensively for long periods
9. WEN 56310i CARB Compliant Generator
Our last pick is a powerhouse despite its compact size, with 3,100 watts of surge power and 2,800 watts of continuous running power which is carb compliant. At a three-quarter output, you'll still only hear a 63 dBA noise level.
We feel this fuel-efficient machine is one of the best inverter generators out there. Again, this is clean power with an impressively small total harmonic distortion of only 1.2% at a full load.
The generator itself can run as long as 7.5 hours at a 50% load, so you can charge a range of devices all day long and it also comes with 2 5V USB ports.
The mighty WEN 56310i has an excellent 3.5 horsepower with a 4-stroke OHV engine featuring air-cooling capabilities to prevent the machine from overheating.
The inverter generator has a larger 1.85-gallon capacity when compared to some of the other devices on the market, giving you nearly 8 hours of power at 50% output.
When operating at a quarter load, you'll enjoy a 57-dBA noise level that is as quiet as a human conversation.
The unit is not only perfect to power up your sensitive electronics, but the 3,100-watt surge power and 2,800 watt running power are sufficient to fuel everything from your home's electric furnace to a rooftop AC.
With two 5V USB ports at the front, a NEMA twist-lock outlet a 12V DC outlet, and two 120V AC outlets, you can keep a wide range of appliances charging at the same time.
One area we feel could be improved is the charge life. That said, if you're powering smaller appliances or running at a lower output, you'll extend your running time considerably.
SPECS
212cc engine
3,100 surge power wattage
2,800 running power wattage
CARB and EPA compliant
Compatible with sensitive electronics
58 dBA for a quarter load
60 dBA for a half load
63 dBA for a three-quarter load
Collapsible carry handle
85-gallon fuel tank
Works in parallel mode
Low oil gauge
Built-in Wheels for easy maneuvering
Runs up to 7.5 hours at 50% output
Eco-mode alters fuel consumption according to output
Weighs 81.4 pounds
2-year warranty
PROS
Good gallon capacity
Works with larger and smaller devices
Multiple outlets that are easy to access
Quiet dBA levels
CONS
Tends to leak oil with excessive use
Heavier than other inverter generators
Inverter vs. Conventional Generators
So, what's the difference between inverter and conventional generators?
Conventional generators are powered by fuel like gasoline, diesel, or propane. Usually, conventional generators feature a motor connected to an alternator that generates electricity.
The thing is, a conventional generator requires an ongoing speed of around 3,000 rpm to generate a constant current, otherwise, the power will falter.
On the other hand, inverter generators run on DC power, such as a car battery or solar panel. These inverter generators convert DC power to AC with electronic circuits.
You have much greater flexibility with an inverter generator because once converted, the electricity can transmit in various frequencies and voltages.
Inverter Generators Frequently Questions & Answers
Can you use an inverter generator indoors?
You should not use a generator indoors. The exhaust a generator emits releases carbon monoxide fumes that are dangerous and deadly.
Can you get an inverter generator wet?
To avoid the risk of shock or damaging your device, you should protect your inverter generator from the elements like rain. If you're outside, use a tent or tarp to cover your generator and keep it from getting wet.
Why are inverter generators so quiet?
Inverter generators are enclosed in order to muffle the engine noise, so most machines don't have a dBA above 60. If you want a quiet engine that won't cause distraction, an inverter generator is a fantastic choice.
Conclusion
If you want to use your inverter generator for backup power to keep multiple appliances running in case of a power outage, units like the Honda EU2200i, WEN 56200i, or Ford FG2200iS are excellent picks. You'll be able to keep multiple devices running at once for hours at a time.
If you're more interested in using your generator occasionally for things like outdoor events, tailgating, and camping, you might prefer the Yamaha EF2000iSv2 or Pulsar Portable Gas-Powered Generator.
Whichever you select, you can be sure of the durability, energy or fuel efficiency, and low-noise power of each product listed.
An inverter generator is a quality investment to keep all your essential devices powered for hours, whether you're on the open road or at home.
Related Articles :