Disclosure: This post may contain affiliate links. This means that at no cost to you, we may earn a small commission for qualifying purchases.
Last Updated on December 24, 2021
Are you sick of getting out of your car in the dead of winter to wrangle open the gate to your property? Since you're reading this, we're betting you are. The good news is that there are plenty of electric gate openers that eliminate the need to get in and out of your car, plus they offer some other perks that we'll talk about later.
There are many kinds of automatic gate openers, but this roundup will take a look specifically at the best solar gate opener options available.
Too busy for the full read? Here's the the BEST Solar Gate Opener in September 2023
Might Mule MM-SL2000B Gate Opener
– This SOLAR Gate opener is our recommended choice due to its compatibility with any gate type, its suitability for both home and commercial use, and its overall high quality.
Check the Price Here
(
Recommended
)
Quick Comparison
If you don't have time to read the complete article, check out our favorite products below.
We've also put together a handy buyer's guide with some things to keep in mind when making this critical decision. Without any further ado, let's jump right in.
5 Best Solar Gate Openers (2022 Reviews & Update)
1. USAutomatic 020320 Sentry 300
Meet the USAutomatic 020320 Sentry 300, one of the most highly ranked solar powered automatic gate openers available—especially when it comes to commercial use.
Though this durable gate offers property owners unparalleled security, we have to warn you that this level of security comes with a hefty price tag.
The Sentry 300 is one of the most recommended gates on the market, thanks in large part to its excellent energy efficiency.
You can use one of two charging methods to power the gate, one of which is an AC transformer and the other a battery charger that uses a solar panel kit. Solar panel users are eligible for a 30 percent tax rebate.
If you're worried about not having enough battery power to operate the gate during winter when the sun comes out less, the gate's design eliminates that worry.
It's the first solar charged gate opener that works even after various days of operation with no sunlight. It also has a stop and reverse safety feature for added protection.
The Sentry 300 boasts a sturdy design and comes with mounting brackets & hardware, and users love how quickly it opens. Regardless of the gate's weight, it opens in about sixteen seconds. This USAutomatic model is expensive, but all the features it provides make it worth it, especially if you need it for commercial use.
Specifications :
Can be used with gates up to 20 feet long or 400 pounds
3-year limited warranty
Comes with two button remote transmitters
Sentry Plug-n-Go wiring harness
Opens up to 90 degrees
PROS
Can be used with solar panels
Provides top-notch security
Durable construction means this gate will last for a long time
You won't have to worry about moisture problems because the circuit board is sealed
Responsive control box
CONS
High price not accessible to all
Batteries not included
It's not the quietest model available
2. Mighty Mule EZGO-Solar Automatic Gate Operator
Next up on our list is the Mighty Mule EZGO-Solar Automatic Gate Opener, which is a fantastic choice that is compatible with many different gate types, including solar panel, tube, vinyl, wood, and chain link gates.
Whatever your needs are, the Mighty Mule EZGO-Solar is a durable workhorse you can depend on.
One problem with automatic gate openers is installation. Even beginner-friendly DIY type installations can be tricky, but not with this model.
Most users can install the gate kit themselves without needing to call an electrician. This innovative gate opener comes with a DVD that walks you step by step through the installation.
The EZGO-Solar is made to work with gates up to 16 feet long or up to 550 lbs. It includes a 15-watt solar panel that will charge continuously, which means that you won't have to worry about this gate functioning correctly.
A bonus is the 30 percent tax credit available for using the system.
The EZGO-Solar is a highly rated product at a price that's accessible to most, which is why we recommend it. Plus, the easy installation makes this gate opener a fantastic choice.
It might not be the best model for commercial use requiring lots of opening and closing, but for the average user, the EZGO-Solar automatic gate opener will do the trick.
Specifications :
Weighs 29.8 pounds
Powered by 12 volts automotive or marine battery
Includes two remotes and a 15-watt solar panel
Backed by 12-month warranty and technical support
PROS
Easy to install, even for DIY beginners
Has many great reviews
Can be used with many gate types
Affordable
Solar power design allows for energy efficiency
Comes with solar panel
CONS
Gate opens and closes slowly
Rain may ruin the gate opener unless you weatherproof it
3. Ghost Controls TSS1XP Heavy Duty Gate Opener
The Ghost Controls TSS1XP Heavy Duty Gate Opener is designed to be a fantastic solution for any number of gates, including tubular gates as well as a wide range of rustic style gates.
If you're ready to automate these types of enclosures, the TSS1XP is a superb option that's easy to install.
What makes this a good purchase for people like farm owners who need an efficient gate is that it's heavy duty.
It can be challenging to achieve speed and noiselessness in a gate opener, but Ghost Controls has done a fantastic job maintaining a relatively quiet gate that opens quickly.
The TSS1XP Solar Gate Open er Kit includes a 10-watt solar panel, which will ensure that your gate opener works even if your power isn't. It's compatible with swing gates up to 20 feet long and up to 300 pounds and allows users to program different modes to suit their needs.
There are a couple of downsides to this model. One of them is that the bracket kit is sold separately for push-to-open installations, and the other is the gate only comes with two remotes that give signals to the control box. If you know that many people will need to access the gate, the TSS1Xp might not be the best choice for you.
Overall, this model provides excellent value considering the features it includes. It also comes with a lifetime warranty on the motor and gear assembly, plus an 18-month warranty on the rest of the parts, for maximum confidence when purchasing.
Specifications :
Powered by a 12-volt battery
Includes a 10-watt solar panel
26 pounds
300-pound maximum weight capacity
PROS
Easy to install
Dual swing gate opener
The quiet design makes it a welcome residential addition
Gate opens and closes quickly for added security
Charges quickly with solar power
CONS
Only comes with two remotes
Does not include a required 12-volt battery
4. ALEKO AC1400NOR Chain Driven Sliding Gate Opener
The ALEKO AC1400NOR Sliding Gate Opener is another contender in the fight for the best solar gate opener.
This model includes various features that helped it earn a spot on our list, and property owners with long and heavy gates will love this one.
The AC1400NOR is a lightweight automatic gate opener made with an aluminum alloy chassis.
It's specifically designed for long, heavy gates. This ALEKO model can open gates up to an impressive 1,400 pounds and 50 feet long.
If you have pets or kids, we recommend considering this model because of its obstruction detection feature. If the gate senses anything in its path, it stops, which is a great safety feature that will give parents one less thing to worry about.
Another feature that helps the ALEKO AC1400NOR stand out is that you can use up to 100 remotes with this gate. All of the remotes are programmable as well as erasable, which makes this an excellent gate opener if you have a high number of people accessing your property. The reason behind is the high efficiency with which they send the signal to the control box.
Many users report that if you even if you have electrical or mechanical knowledge, installing this gate can be tough. If this is your first DIY install, you may require some assistance. Once the unit is set up, it does work well, but it will require some upkeep to prevent rust from forming.
All in all, though it does have a couple of issues, this ALEKO gate opener makes a fantastic addition to your home and provides great money for value.
Specifications :
120V AC 1.5 HP motor
Built-in radio receiver
2-year warranty
20 pounds
PROS
Gate stops opening when it detects an obstruction
Can support up to 100 remotes
Quality customer support
Efficient sliding gate opener
CONS
Challenging to install
Magnet switches may not attach to the gate properly
Some users report issues with rust
5. Mighty Mule MM-SL2000B Gate Opener
Mighty Mule makes our list for the best solar gate opener again, this time with the MM-SL2000B model. This heavy-duty slide gate is a standout when it comes to both light commercial use as well as use on home properties.
It offers excellent features, including adjustable obstruction sensing, a gate sequencing mechanism, and auto-closing.
The Mighty Mule MM-SL2000B works with gates weighing up to 1000 pounds and up to 30 feet in length with a 20-foot opening.
I might be biased, since this is the gate opener I personally own. But it really is the best option around.
You can power it using a 12-volt DC motor or by using solar energy. If you go the solar route, the opener requires a minimum of 10w solar panel to charge its batteries. Users like the Internal Friction Brake Locking Device feature.
This device adds security to your home by locking the gate when it's in the closed position, helpful for keeping children and pets in. You can also program it for both left to right or right to left opening, and if space is an issue, this model's slim design can fit almost anywhere.
If you don't require a gate for heavy commercial use, this Mighty Mule model should work just fine. Most users are very pleased with this purchase, although setup can be rather complicated and may take several hours. If you encounter difficulties, the customer service team is available to help get everything working.
Specifications :
Powered by one 12-volt DC battery
Small profile for use in tight spaces
Obstruction sensing
Opening time of 1 foot per second
Auto-close timer
Left or right opening
PROS
Compact design is well-suited to small spaces
High cycle capability
Built-in Internal Friction Brake Locking Device which provides added security by locking the gate when it's closed
CONS
Not the most beginner-friendly DIY installation
Doesn't include a solar panel in the kit
In this section, we're going to cover some information helpful to those looking to purchase a gate opener.
Different Types of Automatic Gate Openers
There are three types of gate openers. The type of opener you choose will depend on what kind of gate you have.
Automatic swing gate openers function precisely as the door to your house does, by swinging open and shut.
Electric sliding gate openers open your gate from left to right, or vice versa.
Lastly, automatic dual gate openers are for gates with two doors, and this type of opener swings the double doors open.
Solar Gate Opener Features You Should Consider Before Buying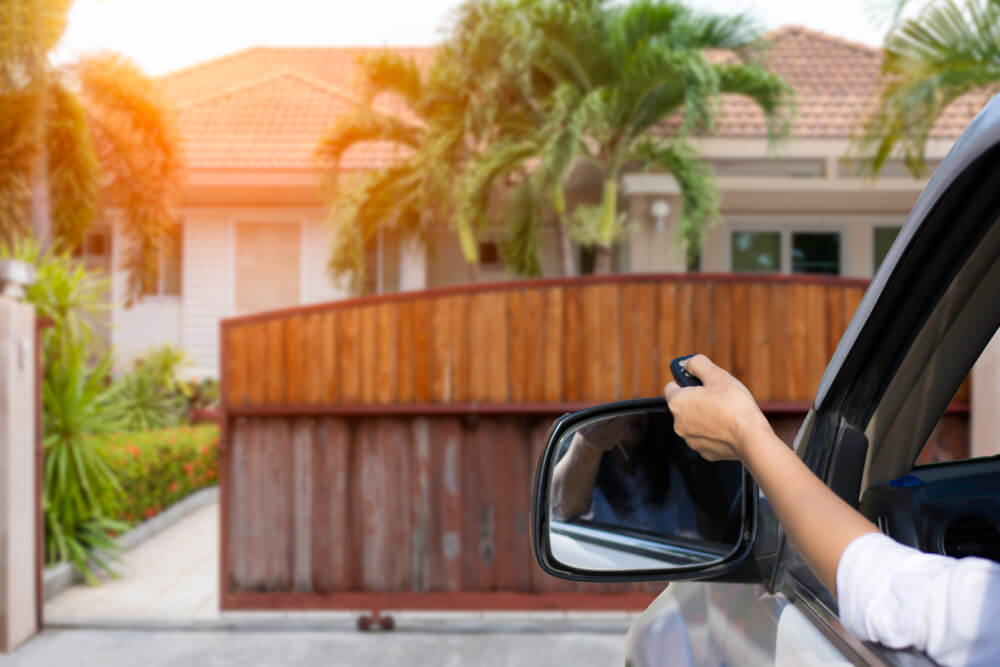 Not all gate openers are created equal. Here are some standard features you should consider before purchasing.
1) Ease of Assembly
Since you will most likely be installing the gate opener yourself, ease of assembly—not created equal in all models—is critical if you have no experience with this type of installation.
2) Energy Management
An essential feature in solar gate openers is how well it manages energy. The gate should be able to deliver the right amount of power when necessary, but it should also be able to consume less energy when needed to lengthen the gate's lifespan.
3) Water Resistance
Finding a water-resistant gate opener is critical given that most people use them outdoors. You don't want its effectiveness to be compromised in the rain, which is why we recommend looking for a fully waterproof unit.
4) Temperature Range
What's the climate like where you live? If your area experiences extreme weather, check before purchasing to make sure that the solar gate opener will work in those conditions. Gate openers are designed to work outdoors in all types of weather, but some perform better than others in severe conditions.
5) Safety and Security Features
Do you have kids or pets? Look for a model with obstacle detection, which will keep your family safe. We also recommend looking for a model that has an extra mechanical lock system for additional security, as well as an emergency release key that will open or close the gate even if there's been a power failure.
Frequently Asked Questions About Automatic Solar Powered Gate Opener
What is an electric gate opener?
An electric gate opener is a device that takes the manual work of opening a gate out of the equation. The control box receives an electronic signal from another device, such as a remote control device or sensor, that tells it to open. Electric gate openers generally receive power from batteries.
How do solar powered gate openers work?
Solar gate openers work primarily in the same way as electric gate openers do, but with one main difference: instead of using a battery to power the unit, solar panels power them. Solar gate openers have a significant advantage, and it's that they require very little maintenance. Choose a solar gate opener you live in a city where a power outage is common.
Is a gate opener worth it?
Absolutely. A gate opener is a wonderful investment for your property. This device is extremely convenient for drivers, who won't have to get out of their cars to enter and exit the property, and it's especially great in inclement weather.
Another reason to get a gate opener is for the added security it provides. Many have locking mechanisms that make it difficult for unwanted visitors to access your home, which gives you added peace of mind.
Lastly, if you're looking to sell your home, adding a solar gate opener is a perfect way to add value and attract potential buyers.
How much does a gate opener cost?
It's difficult to give an exact price for a gate opener, mostly because the cost depends on various factors, such as size, shape, and design. Some manufacturers are more expensive than others, but regardless of which one you choose, a gate opener is not a cheap purchase.
We recommend ordering online because you can often find good deals this way.
How do you put together a gate opener?
All gate openers come with an instruction manual, and some even come with extra assistance like DVDs to help you install it properly. Some are easier to put together than others, so if you've never installed something like this, you may want to consider an easier install option or have a professional complete the installation process for you.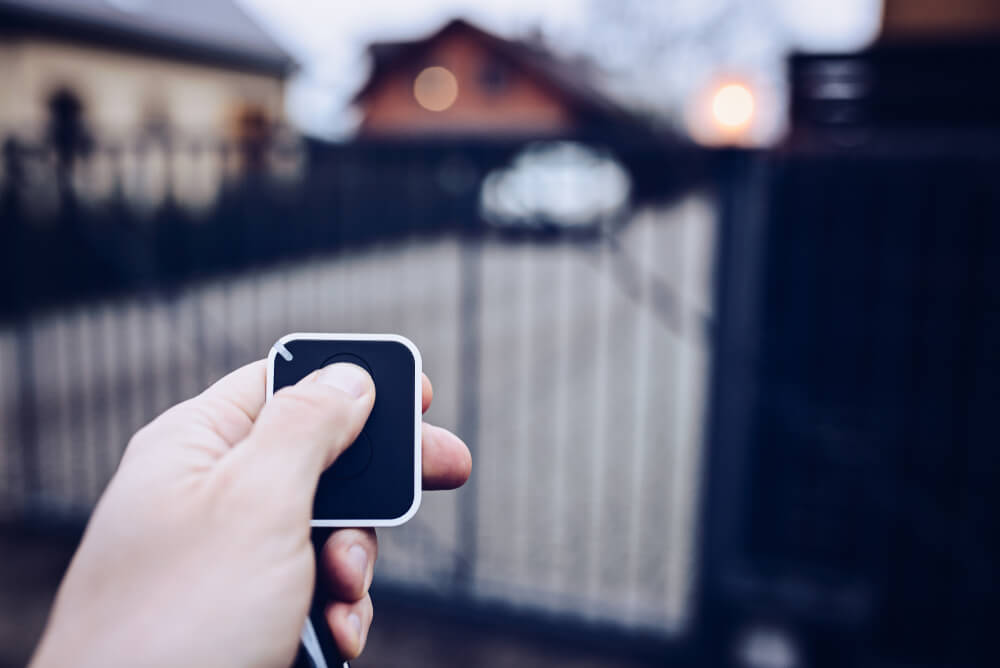 The Verdict
Now comes the fun part: our pick for the best solar gate opener. After carefully reviewing the top options, we declare Mighty Mule's MM-SL2000B the winner of our list. It came out on top thanks to its compatibility with almost all types of gates, its suitability for both home and light commercial use, and its overall high quality.
While the Mighty Mule is an excellent choice, it certainly isn't the cheapest solar gate opener on our list, which is why we suggest the Ghost Controls TSS1XP as a more economical choice. For property owners who will use the gate minimally, the TSS1XP is a fantastic choice. You'll get great gate speed, durability, and excellent value for money.
Whatever gate opener you end up choosing, we hope you found this guide helpful. By paying close attention to the things we outlined in the buyer's guide and pre-purchase considerations, you'll be able to find the gate best suited to your needs.
Other Solar-Related Articles: