Disclosure: This post may contain affiliate links. This means that at no cost to you, we may earn a small commission for qualifying purchases.
Last Updated on December 24, 2021
If you want to increase the energy efficiency of your home while staying environmentally conscious, a wind turbine for your home is an exceptional option to consider.
Too busy for the full read? Here's the BEST WIND TURBINE KIT in December 2023
If you want a power source to help generate electricity that doesn't leave you completely at the mercy of climate change, it's important to consider your best home wind turbine options to make sure you select one that meets your needs.
Quick Comparison
If you don't have time to read the complete article, check out our favorite products below.
Short on time? Here Are December's Best Home Wind Turbine Kits
Real Reviews | Feature Comparisons | Pros & Cons
Today, we'll go over our top picks for the best home wind turbine that you'll definitely want to take a second look at.
Next, we'll walk you through our efficient buyer's guide to help ensure you make the right choice with your home wind turbine kit purchase.
Our favorite option is the Pikasola 400W, which is the best choice on the market at its price point.
Pre-Purchase Considerations
Home Wind turbines are a fantastic power source that converts wind straight to electricity.
When the wind blows, the force of the wind spins the rotor of the turbine and puts the blades into motion.
Once the blades start moving, this powers the generator in the wind turbine, generating a constant cycle of clean, green energy.
These days, wind power isn't just for commercial or large-scale use. You can also use a residential wind turbine in residential areas to generate environmentally friendly energy that could keep an entire house powered.
But first, here are some key elements you need to consider before purchasing one for your home.
The rate of wind
Before you purchase the best wind turbine, you need to consider the rate of wind is in the area you live in.
If your region only experiences very low wind levels, it probably won't be worth the time and effort to install a wind turbine.
If you have at least 11 miles per hour of ongoing wind in your area though, a wind turbine could be an excellent option to keep your home powered up.
Space for a wind turbine
You also need to determine if you have space for a wind turbine, and if so, where you plan on putting it.
Houses situated on land out in the countryside or on farms are better suited to wind turbines than the bustling suburbs.
For example, if you live in a city with lots of buildings, low wind speeds, you're going to face some space hurdles to install your wind turbine.
That's not to say it is impossible, but you need to make sure you have enough space to work with.
The good news is, you can install a wind turbine in a variety of areas, from front lawns to boats to rooftops.
Just bear in mind any surrounding neighbors or wildlife that could interfere with the wind turbine, and ensure you install it in a safe spot protected from the elements.
Go off-grid or stay connected to a grid?
A final pre-purchase consideration is whether you intend to go off-grid or stay connected to a grid.
Off-grid simply means that you won't be connected to a local energy grid and intend to depend on your wind energy alone as a source of power.
It is usually advisable to install a combination or hybrid system with both wind and solar capabilities, so you have sufficient energy in off-grid scenarios.
On the other hand, if you want to stay linked to the grid, this is also a viable option.
In fact, if you stay connected to a local energy grid and the wind turbine generates more energy than your house needs at any given point, the additional flow will go to the local grid and vice versa
So, you'll be contributing sustainable energy not only to your own household but back to the environment as well.
Best Home Wind Turbine Kits For Residential Use
1. WINDMILL 1500W 24V 60A Wind Turbine Generator Kit:
Too busy for the full read? Here's the BEST WIND TURBINE KIT in December 2023
The first home wind turbine for home on our list is this powerful home Wind Turbine Generator Kit by Windmill, featuring 1500W rated power and a rated speed of 46 feet per second.
This is by far one of the best home wind turbines available out there and also considered the best residential wind turbine which is made from high-quality materials.
At first glance, the Windmill Kit looks just like a regular turbine. However, if you take a closer look, as we did, you'll see that it's actually so much more.
This home wind turbine is by far one of the strongest home wind turbines currently on the market, with an insignificant net weight of just 33 pounds. It comes with a 6 mph cut-in speed and a built-in MPPT Charge controller
What's more, the unit features an automatic braking system integrated directly into the home wind turbine, which prevents damage or movement if a mighty wind starts to blow.
Another feature we really liked about this product by Windmill is the fact that it is super easy to install on your own. You can use it in congruence with a solar panel for extra power, which is an additional plus.
Besides these fantastic features, the Windmill Wind Turbine Generator Kit has a weather-resistant cover that helps it ward off damaging elements such as UV rays and others.
We also really liked that this wind turbine uses a combination of manual and automatic braking, giving the owner optimal user control.
That means that if you're dealing with a period of excess wind levels you can stop the system, so it doesn't wear out too fast.
SPECS
An integrated automatic braking system
Compatible with solar panels
Built-in MPPT Charge controller
Glass fiber and polypropylene exterior
Weather-resistant seal
UV protection coating
1500W rated power
46 ft/s rated speed
24V voltage system
6 mph cut-in wind speed
Compatible with 200A or larger batteries
3 blades
6-foot rotor diameter
Weighs 33 pounds
1-year warranty
PROS
Integrated automatic and manual component braking system
Weather and damage resistant
Impressive 1500W rated power
CONS
Only 1-year warranty
Blades can wear out with high levels of use
2. Happybuy 700W DC 24V Generator:
The next wind turbine on our list features a mighty 700W rated power, along with a max wattage of 720W for a boost of extra energy.
With an electromagnetic braking system and nylon fiber blades, this choice could be a strong contender for your shortlist.
The Happybuy Turbine Generator is an unquestionable powerhouse of naturally sourced energy.
With an astounding 700W of rated wattage and 24V DC rated voltage, this durable unit stands the test of time and resists strong weather conditions like a champion.
We really liked the 3Phase AC PMG, or permanent magnet generator, with its powerful microprocessor.
The 3Phase AC PMG helps the turbine accurately and safely regulate voltage, make the most of high wind energy, and up its total power processing time.
The blade material is another huge plus for this product. Manufactured with strong plastic and 30% carbon fibers, the corrosion and element-resistant blades are an ideal choice for rough weather conditions.
What's more, the blades operate smoothly and quietly, so the rotor won't generate distracting noise. The fixed dual bearings of this wind turbine serve as a great stabilizer, giving it a low beginning wind speed.
As such, it has the ability to transmit more electricity at low wind speeds, increasing its overall productivity and longevity of use.
While we wish the braking system included some manual components, the electromagnetic design is very dependable.
SPECS
NE-700M4 Model
700W rated wattage
720W max wattage
24V DC
2 feet per second starting wind speed
1 foot per second-rated wind speed
6 feet per second safe wind speed
3 main engine weight
07 feet wind wheel diameter
3, nylon fiber blades
3 Phase AC PMG generator
Electromagnetic braking
Auto wind direction adjustment
3Phase AC PMG magnet generator
Dual bearings
Protective coating
PROS
Powerful 3Phase AC PMG
Blades are made from high-quality materials
Quiet and smooth operation
CONS
No manual braking component
Charge controller tends to wear out quickly
Its generator only produces an average amount of energy.
3. 2000-Watt 11 Blade Missouri General Freedom II:
The Freedom II wind turbine provides 2,000 watts of power output/energy output with pure power with its 28 rare earth magnet rotor and 11 blades.
It even has a cut-in wind rate of 6 mph for massive output. This low wind speed is due to a high number of blades.
With a wind speed rating of 15 mph and an astounding 2,000 watts of energy output, the Missouri General Freedom II is a force to be reckoned with.
In fact, it can handle wind rates of as much as 125 mph! Without a doubt, the aesthetic qualities of these home wind turbines are among the best in their class, with attractively designed blades to fit with an array of user preferences.
You can purchase this product in either black or white as you prefer. Plus, the Freedom PMG rotor has double the amount of copper as other types of products on the market, which translates to a quicker battery bank charge time than most.
This is a perfect wind turbine for home use as well.
We really love Missouri General Freedom's 3-year limited warranty, which makes this product an excellent choice for both residential and commercial use. This is considered the best residential wind turbine.
The 11 carbon fiber blades of this wind turbine are fully galvanized, which means they are highly durable to stand up against harmful weather elements without incurring damage or rust.
So, this product is a great choice with wind speeds up to 15mph, if you live in a region with lots of humidity or frequent storms.
We would say that the 6-mph low cut-in speed (wind speed) is average, but the turbine still offers a consistent 15mph rate.
SPECS
Freedom ll PMG
28 magnet rotor
2000-watts of energy output/power output.
Wind speed- 15mph, Cut-in speed- 6mph
Two bridge rectifiers
Compatible with 1.5-inch schedule #40 or #80 pipe
2 arms tail assembly
11 Raptor Generation carbon fiber composite blades
62 ½ inch blade diameter sweep
17 mm stainless steel shaft
Self-tightening cam-lock washer
Aluminum case
Compatible with 12, 24, and 49-volt battery bank
3-year limited warranty
PROS
11 carbon fiber blades
Easy to Install
28 magnet rotor
3-year warranty
Incredible 2,000 watts of output
CONS
Average cut-in wind speed
Ball bearings tend to wear out quickly
4. Popsport 400W Wind Generator:
The Popsport Wind Generator home wind turbine has a mid-range rated power of 400 watts, plus a nice start-up wind speed of 2.4 m/s, making it a good choice for anyone who doesn't live in storm-heavy regions.
This 400w wind turbine is one of the best home wind turbines.
If you're looking to boost your off-grid power supply, look no further than the Popsport Wind Generator wind turbine.
With 400 watts of rated power, you'll enjoy a quiet rotor home that won't cause any distraction with unwanted noise.
It transmits far less vibration than most home wind turbines on the market today, but you'll still enjoy an ongoing 2.5m per second wind speed.
We like that the stator and permanent magnet generator work together to lower torque resistance and make sure the sturdiness of the turbine.
If you live in an area with moderate wind rates and not too many storms, this product is an excellent contender for you to look at.
However, if you live in a region that gets a lot of storms and high wind speeds, you might need a sturdier product.
The good news is, the streamlined design of the Popsport wind turbine makes it an excellent fit for any setting, including rural and urban regions.
What's more, the turbine's generator charges batteries for fixtures like an RV or boat, so it has a fantastic array of uses.
We also like the fact that the turbine only weighs 17.3 pounds, so it is easy to move if necessary. This is a high-quality wind generator kit.
SPECS
400W rated power
20A rated current
DC27-54V rated voltage
Weighs 17.3 pounds
3 blades
DC12V battery voltage
5 m/s start-up wind speed
12 m/s rated wind speed
800 r/min rated speed
A patented permanent magnetic generator
The hybrid system includes a solar panel
CE, RoHS, and ISO9001 certified
PROS
Good source of supplemental power
Built to last
15 mph start-up wind speeds
ISO9001, RoHS, and CE compliant
Minimal vibration so low noise unit
CONS
Not sturdy enough for regions with high winds
No instruction manual included
5. ECO-WORTHY 24 Volts 600 Watts:
The final product on our list is this 600-watt unit by Eco-Worthy. The kit includes a 400-watt rated power turbine and 100-watt solar panel for a comprehensive device to meet all your needs.
The final product on our list is actually a comprehensive kit, making it an ideal choice for regions with mid-range wind speeds and moderate storms.
The kit includes a hybrid controller along with the turbine for ease of use. We like the fact that the controller sports 12v/24v autodetect capabilities, so you can connect the battery to the controller, then link the turbine and solar panel to the controller.
We feel This is one of the best home wind turbines. It comes with a 5 m/s cut-in speed.
In order to use the full kit, you will need to purchase additional electric cables to link the solar panel and turbine to the controller. These are not included.
The kit also does not include a pole to position the solar panels and turbine, so you will need to purchase this separately.
The Eco-Worthy Wind Solar Power Kit is a great option to charge your off-grid 24V system. Even when you are experiencing lower levels of light, you'll still get plenty of performance out of this solar power kit.
Due to its industrial-grade manufacturing, this turbine kit is one that can last for years to decades without downgrading its total performance or energy output. The DC12-24V nominal voltage and service voltage are also phenomenal.
SPECS
400 watt rated power turbine
DC12-24V nominal voltage and service voltage
5 m/s cut-in wind speed
5 m/s rated wind speed
35 m/s maximum power/wind speed
200AH to 400AH suggested battery capacity
800r/min rated rotate speed
110 to 220V AC output voltage
Automatic fan dedicated control system
Pure sine wave converter
Permanent Magento phase generator style
3 blades
Carbon fiber composite blade material
2m rotor diameter
5m to 10m tow altitude
64-pound weight
100W mono solar panel related power
6V solar panel Voc
3V solar panel Vop
PROS
Solid 400W rated power turbine
Includes hybrid controller and solar panel for multi-faceted use
High-quality blades
Lightweight
CONS
Can be challenging to find a pole to mount the turbine on
Better for average vs. high wind speeds
How Do Wind Turbine Kits Work?
You already know the basic functionality of how the wind turbine itself works, generating electricity from wind. The wind propels the turbine's rotor and moves the blades to promote energy flow.
A wind turbine kit is simply a comprehensive package including not only the turbine but add-ons like a controller and solar panel for an optimal hybrid function.
With a wind turbine kit, you'll typically need to mount it onto a pole, then link the system to the energy grid. When a turbine kit includes solar panels, you'll have additional off-grid power that never runs out.
The charge controller is another important feature of a wind turbine kit because the charge controller helps you prevent battery overcharge.
In simple terms, this means you'll enjoy a longer battery capacity and a more stable wind turbine operation.
How Do I Know a Wind Turbine Will Work in My Home?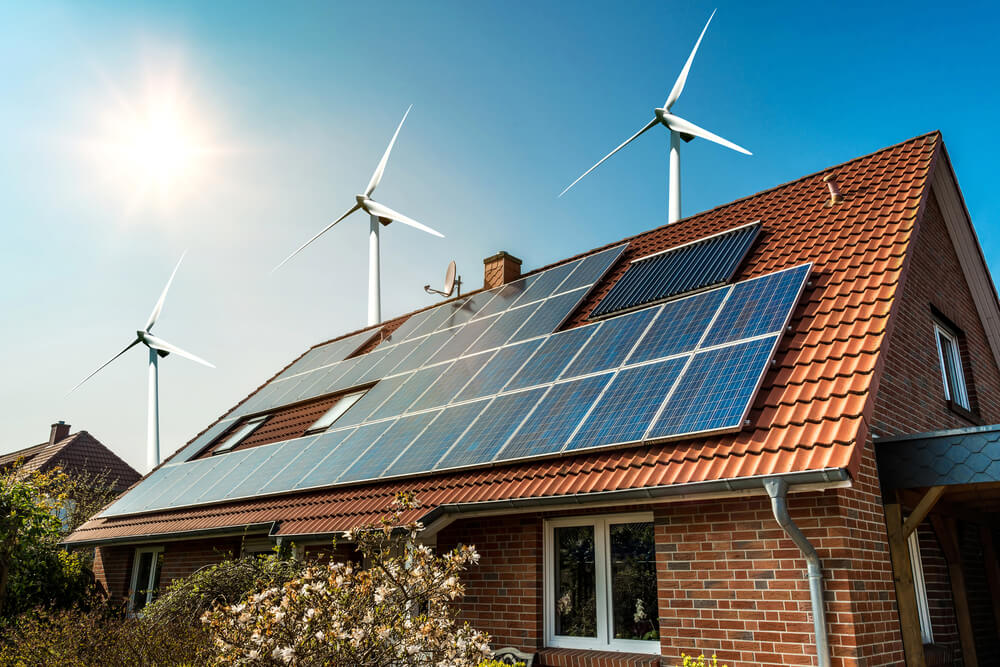 There are a few main elements you ought to consider to determine whether a wind turbine will work in your home.
Of course, you should live in an area that experiences a moderate level of wind. But this is not necessarily the primary aspect you should consider to identify whether or not a wind turbine will work with your current space.
You should live on at least an acre to make the purchase of a wind turbine a worthwhile investment, according to the U.S. Department of Energy's Small Wind Electric Sytems Guide. Rural areas are definitely more compatible with wind turbines.
For example, if you live in a residential suburb, you might run into some problems with your homeowner's association and/or zoning requirements, so you'll need to check those out before moving forward.
Once you know what your local requirements are, you should take a look at the average win rate in your area to ensure you'll be generating enough power to make the purchase a worthy one.
If you have a sufficient wind rate, enough space, and no zoning issues, you can pick the wind turbine to meet your preference.
Pros & Cons of Wind Turbines
Pros of wind turbines
The great thing about wind energy itself is that it's 100% free. Operational costs are almost nothing and wind energy is a great way to reduce overall dependence on energy sources like gas, oil, and coal.
A residential wind turbine is a clean and renewable energy power source.
It is cost-effective and has the capability to keep multiple homes powered at once.
Wind turbines are also easy to install on farms and rural areas where farmers can generate income from providing electricity to local residents such as wind plant owners.
Cons of wind turbines
There are a few cons you should factor in as well.
The wind is not a constant factor in most locations, so it is not always something you can rely on 100%. In fact, most turbines operate at about 30%. So, if you rely on wind power alone, you might find yourself without sufficient wind power some days.
Wind turbines can also be hazardous for natural wildlife, particularly if you reside in a more rural area. Depending on the type of turbine you purchase, the unit will generate between 50 and 60 dBAs of sound, which could get noisy after a while.
If you live in a residential suburban area, your neighbors might not prefer the appearance of a residential wind turbine. Another important reason to check your homeowner's association and zoning rules.
Installation & Maintenance Cost
Depending on the unit you pick, wind turbines can be costly to install and set up. However, if you select a sturdy turbine or turbine kit, it can last you for many years to come.
In general, wind turbines with under 100 kilowatts of wind power cost between $3,000 to $8,000 per wattage capacity to install.
Conclusion
Wind turbines are an innovative source of clean & renewable energy that could keep anything from your RV to your entire home powered up.
If you're looking to start small and don't need a wind turbine for the home for excessive wind levels, go with a small wind turbine or go with options like the Popsport Wind Generator or Eco-Worthy Wind Solar Power Kit.
Otherwise, any of the higher-wattage units mentioned like the Turbine Generator Kit by Windmill are a fantastic way to get started with wind energy.
Remember to review your local wind rate and any neighborhood zoning or association requirements before making your final decision.
That way, you can pick the wind turbine that is not only best for your energy needs but will integrate into the area you live in.