Disclosure: This post may contain affiliate links. This means that at no cost to you, we may earn a small commission for qualifying purchases.
Last Updated on January 6, 2022
With our modern society relying heavily on electricity to function, it's vital to have power regularly when camping, tailgating, or when you need to power your appliances when power runs out at home.
A small generator can come in handy as it's simple to operate and carry around. Modern models are efficient and quiet.
Too busy for the full read? Here's the BEST GENERATOR in September 2023
Generac 7117 Generator
– The best GENERATOR online. It's compact and lightweight. Built for excellent fuel economy and noise reduction and value for money.
Check the Price Here
Below is a detailed review of the best small generators and a buying guide on what to look for when shopping for reliable and efficient home standby generators for backup power during power outages.
Best Small Generators
1. Honda EU2200I Small Generator
The Honda EU2200i portable generator boasts of easy and quick starting, thanks to Honda's automatic mechanical decompressor system that reduces the force needed to start the engine.
If you've never used a portable generator before, you'll love the operational contact points that guide you through the starting operation. At less than 47 pounds, the EU2200i is small and lightweight to easily store and transport.
You don't have to worry about the portable generator becoming a distraction to the neighbors around as it's super quiet and operates at 48-57dBA. This portable generator is perfect for supplemental RV power, camping, and other activities that need a silent operation. We feel this is one of the best portable generators out there.
What's more, the Honda EU2200i comes with a GXR120 commercial-grade engine that delivers fuel-efficient performance and quiet operation in a compact design. At 121cc, the engine produces enough power to get the work done. You can be sure of reliability and durability.
Power your small AC unis, hairdryers, microwaves, and other appliances at your camping site, home, or jobsite. Unlike the previous EU2000 model, the EU2200i portable generator provides more power, which allows you to power an extra fridge, a bigger TV, or a saw at your construction site.
Thanks to Honda's Eco-Throttle System, the generator can run for up to eight hours on less than a gallon of fuel depending on the load, That allows you to enjoy an uninterrupted overnight power when lights go off. Moreover, the advanced inverter technology will make sure that the generator offers reliable power.
You no longer have to struggle with oil changes as the generator comes with a big oil filter opening and a large oil gutter for clean oil changes. The 2200i portable generator has a fuel shutoff feature that allows the engine to run until most of the fuel is consumed. That prevents fuel issues and works perfectly when you need to store the generator. It reduces the emission of carbon monoxide
Specifications :
95-gallon fuel capacity
47 lbs. weight
4 hours run time
1800 Running Watts
2200 Starting Watts
48-57 dBA
Eco-Throttle System
PROS
Small and very portable
One of the quietest portable generators
Low emission of Carbon monoxide
Provides reliable power
Has power enough to run with ease
Prevents overheating
CONS
2. Westinghouse iGen 1200 Super Quiet Small Generator
The Westinghouse iGen200 portable generator is a fantastic choice if you're looking for a small device that provides clean and consistent energy.
You can use this generator for camping, tailgating, or powering up an RV
Despite being a compact generator, the iGen200 delivers 1200 starting watts and 1000 running watts.
That power can connect to a small RV or go camping. If you need to run some other essential appliances in your RV, you may need to connect another similar generator using a parallel connection.
Available in an acoustic double insulated body, the generator is silent, meaning you don't have to worry about any distracting noise. Although the small generator comes with a 0.8-gallon fuel tank, it provides an extended time of nine hours at half the load.
Reducing the load to 25% extends the runtime to twelve hours. Moreover, it has silent mufflers to suppress the noise and produces 52dB of noise at a 25% load.
The presence of silent mufflers suppresses the noise, something that will make sure the generator produces 52dB of noise. Unlike other portable generators, the iGen200 consumes 50% less fuel. That combined with the fuel efficiency mode ensures no fuel wastage.
You can run sensitive appliances as this generator runs on pure sine wave technology that delivers clean energy. Furthermore, you don't have to worry about fluctuations as the Westinghouse iGen200 has a four-stroke 54cc-engine.
Specifications
20A Circuit Breaker
Two 120V 20 Amp Outlets
3% Harmonic Distortion
Parallel Connection
PROS
Has low oil indication
EPA, USFS, CARB compliant
Comes with two USB ports
Provides overload protection
Has three-year warranty and lifetime technical support
CONS
Doesn't have an electric start option
You need to purchase the parallel cord separately
3. WEN 56125i
Add light into your life with the WEN 56125i . The generator provides clean energy to help you power your electronics. Enjoy quiet operation with this compact inverter generator.
Its compact design makes it perfect for job sites, barbecues, campgrounds, and more. Moreover, this generator produces 1250 surge watts ad 1000 running watts of power.
The 0.7-gallon tank offers up to five hours of half-load run time, while the 60cc engine runs at a quiet 51 decibels. You can be sure of less invasiveness while camping, tailgating, or hunting.
The WEN 56125i has a design that mirrors the pure sine wave, something that ensures this generator limits harmonic distortion to 0.3% without load and 1.2% when fully loaded. That means you can run cellphones, tablets, monitors, and other electronics.
Get the detailed panel that has a pair of three-prong 120V receptacles, indicator lights, parallel connection ports, and two 5V ports. Use the Eco-Mode Throttle when you need to maximize fuel economy.
If you're looking for extra energy, all you need is to link up two inverter generators using a parallel connection kit that allows you to share power amongst several units.
WEN adds low-fuel and low-oil spontaneous shutdown with lights and overload protection safeguards to keep your electronics and generator from damage. Furthermore, the company adds a two-year warranty.
Specifications :
EPA III and CARB Compliant 60cc
Two 120V Receptacles and Two 5V USB ports
51dBA
1250W Starting Watts
6 lbs, Weight
5 Hours Run Time
7-gallon fuel capacity
PROS
Has a compact design
Power, quality, and safety ensured
Runs silently
Lightweight
Durable
CONS
Unable to handle a large load
You need to pull multiple times to start the unit
4. Yamaha EF1000iS Small Generator
Yamaha is famous for its quality and portable generators, and the EF1000iS doesn't disappoint. Weighing at 27 pounds, the generator is compact and supplies up to 900W of continuous clean power.
These inverter generators can run for 12 hours at a one-quarter load capacity and with 5/8 gallons of gasoline. You can use these inverter generators for tailgating, camping, or when you need to run a few appliances on your RV, and don't expect them to run for long periods of time.
Find the control panel on the side of the generator with three indicator lights. These lights include the oil warning light, AC pilot light, and overload indicator light. Under the indicator lights are two 15 amp 120B AC receptacles. Extend fuel usage with the economy control switch.
The Yamaha EF1000iS inverter generator has a 0.66 gallons fuel tank capacity that can run for 12 hours at 25% load capacity. What's more, the generator produces 47dB and 57dB of sound, which makes it quiet.
Yamaha inverter generators go-ahead to encase the generator in an insulated cover to reduce engine mechanical noise. The inclusion of a spark arrestor handles the exhaust noise.
Get a two-year warranty if you use the generator for commercial purposes. However, non-commercial users get a factory warranty that covers the generator for workmanship and parts for three years.
Specifications :
CARB Compliant
Variable Engine Speed
Below 50dBA Noise Levels
Max amount of power Output of 1000W/ 900W Rated AC Output
66 Gallon. Fuel Tank
18hrs Run time at 50% load
50cc OHV 4-stroke engine
PROS
Quiet operation
Can operation a full fay with low load and a full tank
Fuel-efficient and exceptional engine quality
Comes with a smart throttle that adjusts the engine's speed to the load
CONS
Maintains a medium setting by default
Unable to power everything in your home or RV
Expensive compared to other portable generators
Benefits of a Small Generator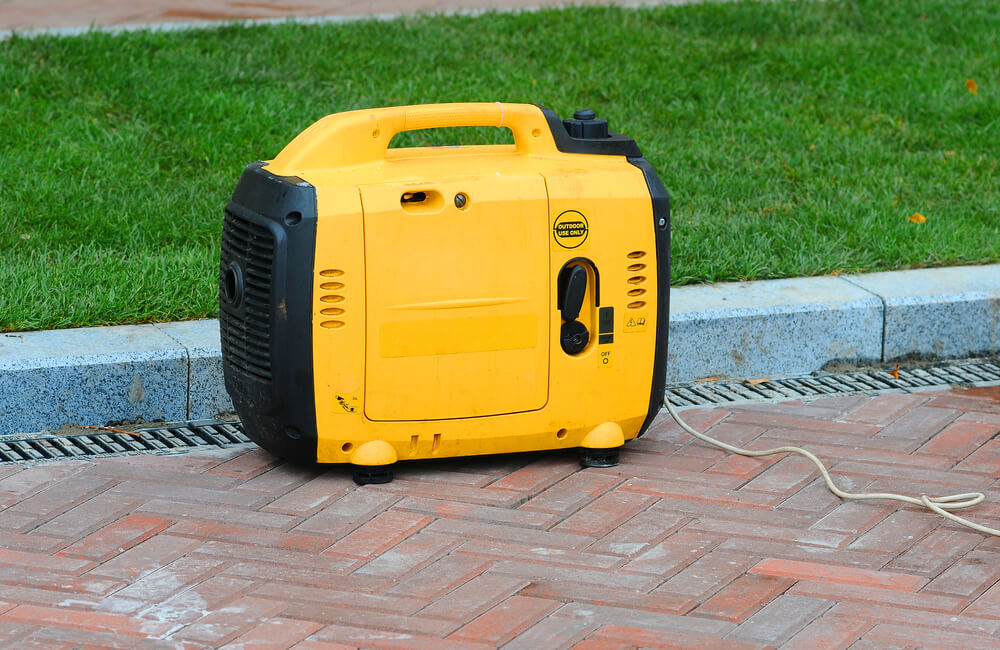 Small generators can power most appliances despite their size. Some other benefits of these portable generators include:
Stable Power
A reliable power source comes in handy when you need to power-sensitive appliances. Most compact generators have inverter capability, which means they are ideal for powering sensitive devices.
Fuel-Efficient
Small generators are capable of running on a few gallons of fuel throughout the day. Modern small generators have an eco-mode, which reduces the fuel needed to run them on a regular basis.
Reduced Noise Levels
Small models boast of quiet operation, something you won't find in bigger units. A portable generator provides an excellent power source without noise distraction.
Power Generation
Although you may dismiss the small generators due to their size, some can generate more than 1500W.
Small Generator Buying Guide
Picking a small generator isn't as simple considering the different brands and models in the market. Below is a comprehensive guide on what to look for in a small generator.
Consider Where You're Planning to Use the Generator
You need to decide where you plan to use the generator before making a purchase. Determine if you need to use it in cabins, RVs, camping, or home use.
Furthermore, you need to determine the number of electronics or appliances you plan to power as this will help you settle for home standby generators with the right watts.
Home standby generators are installed permanently, can run on natural gas or propane, and kick on automatically during power outages and home standby generators are perfect for home use.
Check the Motor Voltage
Remember to check the motor voltage as most generators have a 120V outlet. Anything higher can damage the devices plugged and the power outlets.
In regards to power output or outlets, always look for those with standard three-prong or two-prong power outlets as they can accommodate most electronic appliances. The inclusion of a USB feature allows you to power other electronics like tablets and phones.
Determine the Runtime and Fuel efficiency
Although a long runtime may be tempting, it could also mean a bigger natural gas tank and less portability. A small tank with a short run time translates to more portability. However, check if the weight difference is small if you get to enjoy a longer runtime.
Also, keep in mind that most of the portable generators run on gasoline only.
Find One That is User-Friendly
If this is your first time using a generator, you might want to consider getting a user-friendly model. Get a generator that has user-friendly features like a natural gas meter, low oil shutoff, and low gas shut-off.
Look for Critical Features
When shopping for a small generator, you need to consider the type of engine, cast iron sleeve, and air-cooling features. The air cooling and cast iron sleeve protect the motor in the long run ad ensure optimal operation. Find a generator with OHV engines.
Check if the alternator has durable materials as this is the part that produces electricity. Ensure that it produces high surge output and is safe to operate. Also, look out for one of these references like ANSI/UL2201 Certified for Carbon Monoxide Safety.
Inverter technology enables the generator to produce clean and smooth wattage with low total harmonic distortion.
Moreover, Inverter generators allow you to power sensitive appliances like printers and computers. Don't forget to check the voltmeter, circuit breaker protection, and low oil protection system.
Consider the Noise Levels
A small generator should have a good noise rating. Find one that is below 60dB at a 25% load.
Price
Generators do not come cheap. You can find budget-friendly models and some costly machines with more features. Consider other factors like runtime, user-friendly features, where you plan to use it, and motor voltage when comparing prices.
Final Thoughts
The above four small generators are the best options that are durable, simple to use, and user-friendly. You can use these generators for camping, tailgating, or power appliances at home. Choose one that has features that you'd like and fits your budget.
Related Articles