Disclosure: This post may contain affiliate links. This means that at no cost to you, we may earn a small commission for qualifying purchases.
Last Updated on December 24, 2021
A generator is a fantastic backup power option if you're looking for an alternative power source at home when camping, or on your RV. Modern manufacturers have gone ahead to invent remote start generators for convenience. That feature comes in handy when you're traveling in your RV or camping.
Read on to learn more about remote start generators and what to look for when shopping for one.
Too busy for the full read? Here's the Best Remote Start GENERATOR in September 2023
Westinghouse WGen7500DF Portable Generator
– This dual fuel remote start generator will keep you prepared for any emergency. Runs up to 11 hours. 3,800+ positive reviews. This is the BEST remote start generator on the market.
Check here for latest price
.
Quick Comparison
With so many remote start generators on the market, it can be difficult to know which products are reliable. Lucky for you, we've tested many products so you don't have to.
If you don't have time to read the complete article, check out our favorite products below.
The Best Remote Start Generators
1. Westinghouse WGen7500DF
The Westinghouse WGEN7500DF Dual Fuel Portable Generators come with a remote electric start.
You can power your home appliances or your large RV with this unit conveniently.
Unlike other conventional generators, the Westinghouse remote start generator delivers a fantastic surge power of 9500W with a rated power of 7500W.
Find four standard 120V outlets that allow you to plug your electronics without a hustle. If you need to connect the unit to a large RV, you can use the 120/240V outlet with an adapter.
Westinghouse remote start generator goes ahead to add a packed panel that displays the amount of wattage drawn by the generator and the remaining run time.
The 4200cc 4-stroke OHV engine comes with a durable cast iron sleeve with a low oil shutdown feature. The low oil shutdown feature shows you when there are low oil levels. Also, it comes in handy when the oil loses viscosity or overheats. The alert feature helps to prevent damage.
You'll love the incorporated overhead valve technology that enables the engine to work at low temperatures. With a capacity of up to 6.6 gallons of fuel, the Westinghouse WGen 7500DF can last for up to 14 hours on a 50% load.
Another impressive feature of this remote start generator is the backup recoil starter that complements the electric remote start.
Furthermore, the key fob remote start with the push-button electric start allows you to turn the remote start generator on without any effort. The main breaker makes it easier to transmit power to all outlets without switching off the generator's engine.
Unfortunately, the Westinghouse Wgen 7500DF lacks a 12V outlet for charging the onboard battery.
Although this dual fuel generator weighs about 200 pounds, the weight doesn't affect portability. The holding handle and flat tires ease the transportation process. Once you start the generator, expect 9500 starting Watts /peak watts and 7500 continuous running watts.
The control panel shows a digital hour meter and circuit breaker protection. This generator tops our list of the best remote start generators.
On the downside, the WestinghouseWGen 7500DF has a noise level of 73dB, which makes it loud compared to other generators with remote electric start.
Specs :
This generator with remote start system comes with 7500 running Watts and 9500 starting Watts/Peak wattts
Two Duplex 120V 20A, 120/240V 30A Outlets
CARB, EPA, and CSA Compliant
Remote Start Key Fob
Intuitive Control Panel
73 dBA
420cc 4-Stroke OHV Engine
3-Year Limited Warranty
PROS
Comes with a backup recoil stats display
Dual fuel generator
Has an 11-hour run time
Easy to use and maintain
Has a 3-year limited warranty
CONS
Consumes too much fuel
Heavier and loud
Doesn't have a 12V DC Outlet
2. Champion 3500W Portable Generator With Wireless Remote Start
The Champion 3500W Portable Generator With Wireless Remote Start is a fantastic generator that comes packed with several features and can power all your home essentials in case of a blackout. I
ts 196cc OHV engine, single-cylinder delivers power that all your appliances need.
You can operate this remote start generator from about 80ft thanks to the wireless remote start feature that comes with a fob-push power button.
It's also able to run for 12 hours and deliver 3500 running watts and 4000 starting watts/Peak watts with a full tank.
The company goes ahead to include an inbuilt protector surge that prevents any damage to your power equipment due to an overload.
This generator with remote start system makes your life easier as it adds the Cold Start Technology that ensures a quick start during the cold weather.
What's more, Champion Intelligauge monitors frequency, voltage, and operating hours. The included wheel kit and easy-grip handle enable you to move the generator when out camping.
You'll love the outlets in the Champion portable generator, with the main ones being a 120V 30A RV outlet that gives enough power to run other low-power appliances, two 120V 20A household outlets, and 120V 30A locking outlet. Filling the fuel tank gives you up to 12 hours of power at a 50% load.
Champion's inverter technology has a smart economy mode that can reduce the electrical load, give you a better fuel economy, and guarantee an extended engine life.
The noise level is 68dBA from 23 feet. With the low oil shut-off sensor, you can be sure of using less fuel and saving more for future use. Champion gives. A free lifetime technical support and a three-year limited warranty.
Since this unit delivers only clean sine-wave power, which is less than 3%THD, you can connect all your sensitive electronics with confidence. What's more, the optional Parallel capability Kit provides a quick clip-on connection that allows you to increase the power output by connecting two 2800W or higher inverters together. We feel this is one of the best remote start generators available out there.
The fact that this generator with remote start system comes fully assembled and with a foldaway handle makes it simple to store.
Specifications :
Wireless Remote Start
Gasoline starting amps 120V:33-3 Amps. Champion Support
196cc engine with a three-way ignition switch
4000 Starting Watts and 3500 Running Watts
6lbs
8 hours of run time at 25% load.
3-Year Limited Warranty
PROS
Durable and last for years
Comes with a 3-way ignition switch.
Versatile can work for power backup and when camping
Offers impressive performance and convenience
Comes with a three-year limited warranty
User-friendly and comes with 3-year warranty
CONS
Comes with minor draining challenges
3. Westinghouse iGen4500
Westinghouse is a popular brand in the power generation industry with over 100 years of experience.
The iGen 4500 is a robust generator that comes with a 3.4-gallon fuel tank, which allows it to run for more than 15 hours at a quarter load.
Enjoy extra efficiency when you run the generator on economy mode.
With a continuous power output of 3700 watts and a surge wattage of 4500 watts, the Westinghouse portable inverter generators come with safe power outputs for all your sensitive devices. Looking for the best remote start generator? This should surely be on top of your mind.
Moreover, the generator with remote start system is fitted with an electric and remote start, something that makes it easy to start. You'll love how quiet this generator is at it runs at 53dB, making it quieter than most models in the market.
The iGen 4500 has an 4-Stroke OHV engine with an engine displacement of 224cc. Its splash lubrication makes it easy to run. The unit also has automatic voltage regulation and an AC voltage of 120V with an AC frequency of 60Hz. Find two AC outlets, a battery, and a charge.
Moreover, this generator delivers less than 3% total harmonic distortion.
The best part is that the model is portable as it comes with a pre-assembled wheel kit. You can take it to your campsite, job site, or anywhere you'd need to use the generator.
Get a three-year residential warranty and a six-month commercial warranty.
Another fantastic feature in the iGen4500 is the electric start that allows you to control the generator from a distance using the key fob.
That makes the generator user-friendly. The informative LED display shows the current output in percentages, voltage, remaining run time, power output in kilowatts, the fuel level in liters, and total running hours of the unit.
Find two USB ports and two 5-20R 120V household outlets. The RV-ready generator is also CARB and EPA compliant.
Specifications :
4500 Watts Starting Power
3700 Watts Running Power
Key fob remote start
Button and Remote Start
Comes with two 120v 5-20R household outlets.
LED screen
Enhanced Fuel Efficiency
Double-insulated acoustic enclosure
16 hours of run time at 25% load.
4-Gallon Fuel Capacity
CARB Compliant
58dB
PROS
It's user-friendly
Key Fob remote start
Relatively quiet operation
Compact design that compensates for the extra weight
Comes with a remote control start and an electric start
Has an LED display for monitoring purposes
CONS
Heavier than other inverter generators
It's not parallel capable
4. Pulsar PG4000iSR 4000W Inverter Generator With Remote Start
Pulsar PG4000iSR is an affordable remote start inverter generator that delivers more power compared to other generators in its class.
With its capability of producing 4000W of surge power and up to 3500W of continuous power, the generator works well with home appliances when you're facing an outage.
Also, the generator runs for 15 hours at 50% load with 3.4-gallon fuel.
Its remote start allows you to control the generator from up to 100ft away. You can switch it on and off while you are indoors. It comes ready for your recreational vehicle, thanks to its 30A RV
Unlike other generators, the generators with remote start are reasonably quiet, delivering 63dB. That is below the maximum allowed by most campgrounds.
Enjoy a selection of outlets, with the main being a 120V 30 amp RV output that gives enough power to run other low-power appliances in your recreational vehicles.
Another impressive feature is the parallel capability that allows you to connect another inverter generator for extra power.
However, you'll need to purchase the parallel kit separately. If you have sensitive power equipment, you don't have to worry when you have the PG4000iSR as it's an inverter generator that produces clean sine-wave power.
Being EPA and CARB compliant means that it has complied with all the required standards.
Its compact size makes it easily portable, which allows you to store and transport. Its tucked wheels at the bottom also make work simpler, but you shouldn't use them on rough ground. If you ask us we feel this is one of the best generators out there.
Specifications :
4000 Starting Wattage/ Peak Watts
3500 Running Wattage
RV Ready Outlet
63dBA Noise Level from 23ft.
Electric Start and Remote Start
CARB Compliant
PROS
CARB compliant
Comes with versatile power outlets
A high power output of 4000 Watts
Electric and remote start
Have a USB outlet that allows you to plug in tablets and smartphones
CONS
Has fragile wheels
Noise level is high when running on full capacity
Wheels not ideal on rough surfaces
What is a Remote Start Generator?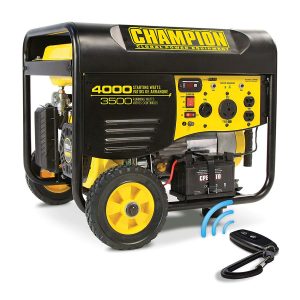 A remote Start generator is a generator that comes with a start feature, meaning you can get it started from any internet-connected device. It comes in handy when the weather outside is crazy during a power outage.
How Does it Work?
A remote start feature in a generator reduces the need to be present at the location physically to start the unit. Once someone touches the start button, that sends a signal to the remote start kit automatically. That allows the engine to start without any problems or force.
What are the Benefits of a Remote Start Generator?
Some reasons why you should consider getting a remote start generator to include:
The Units Come With Status Indicators
A remote start generator device comes with indicator lights and audible cues that let you know when something is amiss with your generator. That allows you to take care of any problems
before the generator shuts down. Advanced types can monitor units up to 60 kW, which works well for residential installations.
Sometimes going to pull your manual generator outside with a heavy downpour doesn't work. Fortunately, modern wireless start generators have a cradle that you can use for wall or desk mounting. These cradles are compact and convenient, something that makes your work easier.
They are Powered Permanently
The monitoring device in a remote start generator is A/C powered with battery backup. That makes it simpler to get generator status updates. The batteries will kick in when the power fizzles out. You'll hear a chirping sound if the battery power gets low. It is simple to change the batteries as you don't need to open the housing.
Come With Simulated Control Panel
A wireless start generator has a simulated control panel that gives you instant updates. You can run an engine test, check for control and errors, and change the exercise date and time at the convenience of your house.
What Other Features Should I Look for in a Remote Start Generator?
When looking for a wireless start generator, you should consider:
It's imperative to get a remote start generator that matches your power needs. Consider the number of appliances you plan to run with the generator as this will let you know of the required energy to look for in a generator.
Simply add up the wattage requirements of everything you need to power.
Also, you can use online tools to calculate the amount of wattage you'll need based on the energy requirements of various standard appliances.
Engine Efficiency, Fuel Tank, and Run time
You need to determine how long you can keep the generator running without refueling. Run time is based on the engine's efficiency and the size of the fuel tank in the generator.
It's critical to note that runtimes are measured at 25% load or 50% load as the engine's efficiency reduces when power reaches the rated power output.
Remember that the bigger the tank, the longer the run time. Most generators give you an average of 10 hours run time at 50% load. Large models can run for up to 10 hours at 50% load, while smaller generators can run for up to eight hours at 25% load.
Number of Outlets and Types
Outlets affect your ability to power different appliances with your generator. Most generators have two 120V outlets. However, if you need to add more power-consuming appliances, you may want to consider getting a 120V/240V twist-lock outlet.
If you want your remote start to function properly, you may want to get a 12V DC battery outlet to keep the battery charged. Also, if you need to use the generator with your RV, you're better off with a 30-amp RV-ready outlet.
Low-Oil Shutoff and Overload Protection
Check if your preferred generator has an overload protection feature as this means once you exceed the generator's power capacity, it will shut off automatically to prevent damage to the engine or a power surge.
When the engine oil is low, the low-oil shutoff feature will detect this automatically shut down the generator to prevent the engine's damage. Some brands have enclosed engines to prevent any exposure to hot engine parts.
Running Power Vs. Surging Power
Generators have two power levels that are surge power and running power that is measured in watts. Running power or rated watts is the capacity that the generator can produce over a continuous amount of time. Surge power or the starting power is the extra power required to turn on appliances and electrical devices.
When purchasing a generator check the displayed running power and surging power. However, some don't indicate the surge power. In this case, add a few hundred watts to the total required running power to prevent overloading and electrical damage.
Some remote start generators can be loud and distracting. However, you can find inverter generators, which are quieter. If you get a fuel-powered generator, check to see if it's fitted with mufflers to reduce the noise level. Although the mufflers won't make the generators completely silent, they minimize the noise level.
Another critical feature you should never ignore is the fuel stabilizer. It's challenging to empty a fuel tank of a generator. Leaving fuel in a generator idle with duel causes damage. A fuel stabilizer prevents starting issues and corrosion.
A wireless remote start allows you to switch the generator on from a distance. If you plan on using your generator at a campsite, worksite, or at home during power outages, this feature can come in handy.
Although most remote start generators are built with special mufflers or noise-absorbing glass, it's best to know the noise levels of a generator you plan on purchasing. Find a generator that is designed to work quietly, yet effectively.
The Cost of the Generator
Although a remote start generator is likely to be more expensive compared to conventional engines, this may vary depending on the manufacturer, type, and size of the generator. You can find some that cost less than $500 to some that go over $2,000.
Common FAQs
Some of the common questions on generators include:
Can I Make an Older Generator Work with Remote Control?
If you have an old generator that you aren't looking to replace sooner and you're wondering if your older generation can work with remote control, the good news is that it's possible.
All you need is to get a wireless remote control transmitter.
The transmitter functions if your generator comes with a remote control input. With the transmitter in place, you can switch the generator on and off from a distance of up to 100 meters.
Can I Run a Remote Start Generator that Hasn't Been Used for a While?
Chances are the battery may be dead or deleted if you haven't run the generator for a long time. That means the electric remote start feature won't work.
However, you can use a secondary recoil start to run the generator or change the battery using a battery charger compatible with 120V outlets.
Should I Get a Generator That Runs on Gas and Propane?
There's an assumption that getting a dual fuel generator is more advantageous, but this is always not the case. It all depends on the engine and not the carburetor. Nevertheless, having gas and propane or a dual fuel generator comes in handy when there is a power outage.
Where Can I Keep a Generator When Not In Use?
It's best to store the generator out of elements and in a dry place when it's not being used. That prevents any wear and tear and limits the engine's exposure. Ensure that you remove the leftover fuel from the generator's fuel tank before storage as it can cause engine damage.
Final Thoughts
A remote start generator eliminated the need to be physically present when you need to switch the unit on and off. You have nothing to worry about when the weather is unfavorable or when there's a blackout and you're worried about going outside.
Choose from our top of the range remote start generators list.