Disclosure: This post may contain affiliate links. This means that at no cost to you, we may earn a small commission for qualifying purchases.
Last Updated on December 24, 2021
Generac Power Systems has been in the business since 1959, giving them plenty of time to develop and perfect their technology and transform their name into a trusted brand.
Their generators are frequently used products across the country, from home standby generators to portable machines.
Too busy for the full read? Here's the BEST GENERATOR in September 2023
Generac 7117 Generator
– The best GENERATOR online. It's compact and lightweight. Built for excellent fuel economy and noise reduction and value for money.
Check the Price Here
Generators can be super useful products. Generac power systems are great tools to own in case of emergency power failures due to natural disasters, or even planned outages from construction.
They can also be used in situations where power isn't readily available, like camping areas and construction sites. They also provide great customer service.
Today, we want to take a look at a few Generac generators to give you an idea of the choices you have within this reliable brand.
After checking out just a few of their options, you can venture on to review more of their products. Perhaps you'll even find the one you need below.
Generac Generator Reviews
1. Generac 7117 Gp2200I W 50St
Too busy for the full read? Here's the BEST GENERATOR in September 2023
Generac 7117 Generator
– The best GENERATOR online. It's compact and lightweight. Built for excellent fuel economy and noise reduction and value for money.
Check the Price Here
The Generac 7117 Gp2200i is one of a handful of inverter generators designed, made, and sold by the Generac brand. It's lightweight and compact yet oh-so powerful, allowing you to run all kinds of appliances for up to 10.75 hours!
We've performed various tests and scoured its features to bring you a well-rounded review of its positives, negatives, specifications, and everything in between.
Let's start by taking a look at the specs so that you can get a good feel for its capabilities right away.
Specification Table
| | |
| --- | --- |
| Brand | Generac |
| Engine | Generac OHV 4-stroke 80cc |
| Wattage | 2200 starting watts, 1700 running watts |
| Running Amps | 14.2 amps |
| Peak Amps | 18.3 amps |
| Dimensions | 19.7″ x 11.4″ x 17.9″ |
| Noise | 60 to 70 dB, depending on the load |
| Weight | 46.6 lbs |
| Color | Orange and black |
| Voltage | AC: 120 Volts 60 Hz, DC: 12V |
| Fuel Tank Capacity | 1.2 Gallons |
| Fuel Type | Gasoline |
| Run Time | 10.75 hours at 25% load and 7 hours at 50% load |
| DC Outlets | 12V 8A DC outlet and 5V USB port |
| AC Outlets | Duplex 120V 20A (5-20R) |
| Start Method | Manual recoil |
| Emissions | CARB |
| THD | < 3% |
| Security | Low oil, output ready, and overload |
| Warranty | Up to 2 years, but it might be limited and not cover every part of the generator. We suggest contacting Generac's customer service team on 888-436-3722 to find out the specifics. |
| Neutral | Floating |
| Covered Outlets? | Yes |
| Fuel Gauge? | No |
| Parallel Ready? | Yes, parallel kits sold separately |
| Spark Arrestor? | Yes |
| CARB and EPA Compliant? | Yes |
| Accessories Included? | Yes, oil and a funnel |
Pros
The lightweight design ensures it is easy to maneuver.
It comes complete with an economy mode that makes for great fuel economy.
It's fully CARB and EPA compliant, allowing you to use it no matter which state you live in.
The compact design is great for storing in places with limited space.
The handle is comfortable to make it even easier to lift and carry with you.
We love that it provides both a USP port and a DC outlet.
The run time is brilliant, especially when you consider the diminutive size of the generator.
The economy mode also works to reduce noise.
The integrated on/off switch allows for easy operation. You can switch between "Choke," "Run," and "Stop."
It's fantastic for inexperienced users to get up and running with a powerful generator.
It is parallel-ready. However, the kits are sold separately.
Cons
We noticed it overheats fairly easily when powering with higher loads.
Unfortunately, the economy mode doesn't work well with high loads.
It's not stated that you can use it in RVs. However, plenty of customers have enjoyed using it on camping trips.
The number of output ports and the running watts might be too low for hefty users. However, if you haven't used a generator before, we'd say that it's plenty to get started.
Its running wattage is 100 watts less than its direct competitor. However, we're very nit-picky here as it's only a minor difference.
There isn't an electric start. Instead, it's manual recoil only.
There is no data center.
2. Generac 6866 iQ2000
The Generac 5940 GP6500 portable generator gives you a lot of power to pull on two wheels. CSA-approved and CARB compliant, this durable and safe generator is great for your larger power needs.
When you need more wattage but prefer the convenience of portability, it can be tough to know where to turn. This Generac model gives you both of those features in one with their 5940 GP6500 product.
With 6500 running watts and 8000 starting watts, this gas-powered machine sure does deliver. A convenient handle along with two sturdy wheels lets you take this model anywhere to use at home, on the job site, or during a sizable event.
The 389cc OHV engine is built for the long-term, displaying consistent and reliable power over long periods of time. With solid construction and durability, you'll get a lot of use out of this product.
The fuel tank holds 7.2 gallons of gas, which lends 10 hours of run time at a 50% load. Safety features shut your machine off when your oil gets too low, protecting both you and your investment.
An hour meter lets you easily read your run time, while the covered outlets stay protected while not in use.
SPECS
Size: 28.75 x 26.75 x 25 inches
Weight: 184 pounds
Wattage: 6500
Starting Wattage: 8000
Tank Size: 7.2 gallons
Two 120V outputs, one 240V output
PROS
Starts easily on the first pull
Efficient run-time and abilities
Easy to operate and assemble
Capable of powering most appliances in average size homes
Low oil sensor for safe automatic shutoff
CONS
Can be loud at times
Does not include USB ports
No remote monitoring
3. Generac 6864 Generator
A diesel alternative to the other Generac products we've looked at, the 6864 model offers a moderate level of power for just the right amount you need for a variety of emergencies, projects, and situations.
The Generac 6864 portable generator uses a diesel-powered engine for efficient and reliable power.
This engine is built to perform, using industrial-grade materials and air-cooled technology. Since diesel is more reliable, it means there is less work for you and as well as maintenance.
The whole package is wrapped together securely using a durable, fully welded steel frame. This frame also makes it easy to carry and transport.
Using what's called True Power Technology, this generator offers less than 5% harmonic distortion.
This means that all of your electronics, appliances, and tools will run smoothly with no hiccups or lag. This is perfect during a power outage and an excellent fit for backup power.
The operation is easy using the simple control panel. Everything is labeled, so you can quickly find the transfer switch, the hour counter, and the outputs.
It also includes an optional electronic start, although it requires you to purchase a battery.
SPECS
Size: 33.1 x 22.5 x 25.6 inches
Weight: 254 pounds
Wattage: 5000
Starting Wattage: 550
Tank Size: 12 gallons
Four 120/240V outputs
PROS
Optional electronic start
Easy to read and use the control panel
The welded steel frame is sturdy and reliable
Large tank runs for 32.4 hours at 50% load
The diesel engine is reliable and low maintenance
CONS
Very heavy
Will not run without a battery due to fuel cut-off feature
Too busy for the full read? Here's the BEST GENERATOR in September 2023
Generac 7117 Generator
– The best GENERATOR online. It's compact and lightweight. Built for excellent fuel economy and noise reduction and value for money.
Check the Price Here
FAQs
Many consumers frequently asked common questions about products like the ones we have just discussed. Not all users of Generac generators are experts, so a little help can be a good thing.
If you've read through our review and find that you still have some unanswered questions, take a look at this FAQ section; you might find the answers you're looking for!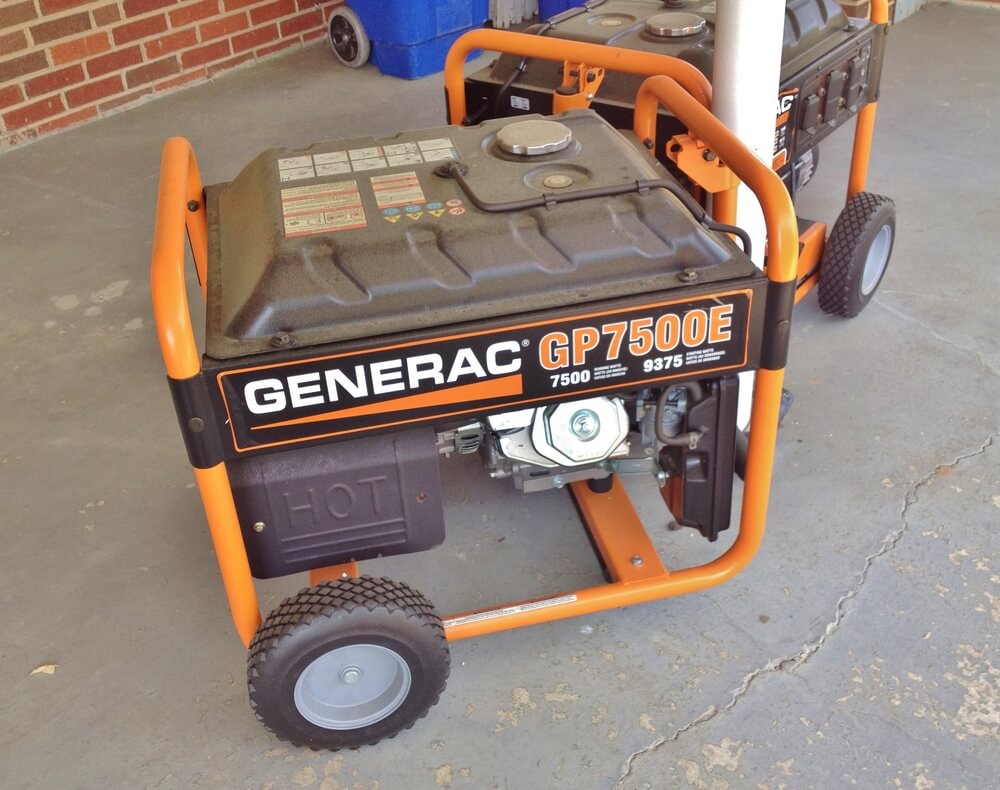 Are Generac generators quiet?
Quiet is a bit of a relative term when it comes to generators. Truthfully, no generator is going to be 100% silent since you are essentially running an engine designed to power multiple other machines.
The noise level will be specific to your machine, and its features. Generally, a larger machine tends to produce more noise. A smaller generator (like an inverter generator) will be quieter.
Where are Generac generators made?
Generac companies function out of the United States and Canada, apart from the United States they do service countries internationally.
What size Generac generator do I need?
The answer to this question depends on what you plan on using your generator for.
Luckily, the Generac website has a generator calculator that can help you find the best product to suit your needs, whether you need a standby generator, whole house generator, inverter generator, portable generator or you need it just as a backup power source.
What does a Generac generator run on?
Different Generac products use different methods to power their engines. Most Generac models use natural gas, but some run on liquid propane.
Others run on battery power or have the option to switch the battery power. Battery options are useful because you can recharge them, but you will have to purchase the battery separately for these models.
Where can I buy a Generac portable generator?
Generac portable generators are available for purchase at a variety of online and in-store locations.
You can buy any Generac product on the Generac website, but you can also find their products at places like Ace Hardware, Acme Tools, Gainger, The Home Depot, Lowe's, and many more locations.
For a full, comprehensive list specific to your location, use Generac's online location lookup tool. This page will tell you the closest stores to you as well as give you online ordering options.
With many generators sold out, we've found the best generators you can buy that are still in stock.
Where can I buy Generac parts?
The Generac website has an excellent resource for finding parts along with maintenance kits for your Generac generators.
Their online product lookup lets you nail down product specifications, manuals, FAQs, and how-to videos. You can also find parts that you need to make repairs.
Generac for Power
As you can see, Generac is a well-known brand name that has tons of helpful generator products and resources. A generator can be the best solution in emergency situations as well as recreational activities.
It can help you run almost all of the appliances in your home during an outage, but it can also serve as a comfort item on an outdoor adventure in the middle of nowhere.
You should never be without power when you need it most, and the truth is, you never know when the next outage will be. Generac is dedicated to make sure its customers have only the best in quality.
Note: If you have a limited budget, then you can go for DuroStar generators.
Also Read: Generac IQ2000 Portable Generator Review