Disclosure: This post may contain affiliate links. This means that at no cost to you, we may earn a small commission for qualifying purchases.
Last Updated on December 24, 2021
Many of us have found ourselves in the predicament where we've lost power in our home and aren't sure when it's going to come back. Chances are, you probably had a neighbor close by who moseyed right on into their garage, pulled out a durable inverter generator, and bam! Lights on. No food to throw away. Showers? No problem.
"Never again!" you thought to yourself. "That will be me next time."
So, you've finally decided it's time to make a purchase. Only, now, you're faced with a litany of choices. All of which make appealing promises and claims.
Do they deliver? Are they all the same? Is one better than the rest?
For over 50 years, Honda's mastery in the design and production of 4-stroke engines used in inverter generators and other vast power products gives them an edge over their competitors. Will the same hold in this field?
Today, we're going to take a look at the Honda Eu2000i Generator review and see how it stacks up.
Too busy for the full read? Here's the BEST GENERATOR in December 2023
Generac 7117 Generator
– The best GENERATOR online. It's compact and lightweight. Built for excellent fuel economy and noise reduction and value for money.
Check the Price Here
Honda EU2000i Generator Review
The Honda EU2000i is a small 2000 watt portable generator designed for those who need power in an emergency or on the go., this is much lighter than most of the conventional generators. Although it's ideal for uses like camping, the inverter generator will be able to power certain essential household items when you need to.
The Eco-Throttle system makes this generator very fuel-efficient. It comes with starting watts of 2000. The generator automatically adjusts its fuel consumption to the current demand. It can run for 8 hours continuously with a 25% load.
This inverter generator can even charge your phone or power a TV without causing any damage and it also has a reasonable fuel tank.
Specifications:
Engine: Honda GXR120
Run Time: 3.2 to 8.1 hours – depending on load
Engine Displacement: 121cc
Surge Watts: 2,200
2000 starting watts
Running watts- 1600 watts
Rated Watts: 1,800
Starting system: Manual Recoil
Receptacles: 2 20A, 120V
Parallel Ready? Yes
Fuel Type: Gasoline
Fuel-Efficient
Fuel tank Capacity: 0.95 gallons
Weight: 46.5 lbs
Outlets: AC output(120v) DC output(12v)
Low Oil Shutdown: Yes
CARB Compliant: Yes
Noise Level: 48 at ¼ load
Warranty: 3 years (limited)
UPDATE – HONDA EU2200i IS THE NEWEST MODEL
The Honda EU2200i is the newest model of their super quiet portable series of inverter generators. The previous generation EU2000i was the most popular portable inverter generator model the company made.
As with all good new releases, the EU2200i has a number of new additions and enhancements that means you should take a serious look. It also has similar features when compared to EU2000i inverter generator like these include the Eco-Throttle fuel efficiency optimization system, quiet operation, parallel capability, small size, and low weight and easy to use.
First, very consistent to the model numbers you see between the older and new units, they have a 10% difference in wattage. The older EU2000i supplied a maximum of 2000 Watts of power, while the newer EU2200i supplies a mx of 2200W. The extra power is generated from the new GXR120 Honda engine inside the new generator.
Besides just more power, the EU2200i also offers several user-friendly features to make living with the generator day to day a more pleasant experience. For example, there's now an option to run the engine while you have the fuel supply cut off. This is a great way to let all of the fuel get consumed into the generator and not leave any in there to go bad over time. It's also great for avoiding messy situations inside the unit.
There also also other well-thought out enhancements, such as easier starts, better labeling of parts, more efficient ventilation of key components, and larger and better thought out components for when it comes to adding or changing the oil of the system.
Altogether, the Honda EU2000i is still an excellent choice, especially for the price. However, if you can pick up a newer EU2200i for not much more money, it may be well worth it given the overall improvements made by Honda to this excellent super quiet operation portable generator family.
What We Liked:
One of the best features – and reasons you'll likely be interested in the Honda EU2000i – is that the generator is portable and powerful. It weighs about 50 pounds and boasts 120 volts. That's more than enough to power appliances like refrigerators in a camping or emergency situation.
What's more, you can use the generator with more sensitive items like TVs and cell phones. It's a great all-around machine that will serve most of your needs – whether you're camping or preparing for a power outage.
The generator runs for a long time as well. It can last almost three and a half hours when using full load, and a whopping eight hours when running at a quarter load. That means you can use it to power your smaller devices overnight if you need to.
The sound rating is another positive attribute of the Honda EU2000i. It's only rated for 50-60 decibels depending on the load so that you won't be bothering neighbors or others at the campsite. There are some special sound-dampening materials in the generator that ensure it's a quiet way to power your appliances.
You don't have to worry about damaging the engine by running out of oil, either. The Honda EU2000i has an automatic oil alert that will shut off the engine when the oil is low.
You can be sure that the generator will be providing you clean power with the wave inverter technology as well. Some generators will overpower items like cell phone chargers and other sensitive devices. The Honda EU2000i makes sure you can use it for nearly everything – big or smell.
On top of all of the features, the Honda EU2000i comes with a three-year warranty. You will be able to get a replacement if anything breaks or becomes damaged within the first three years.
What We Didn't Like: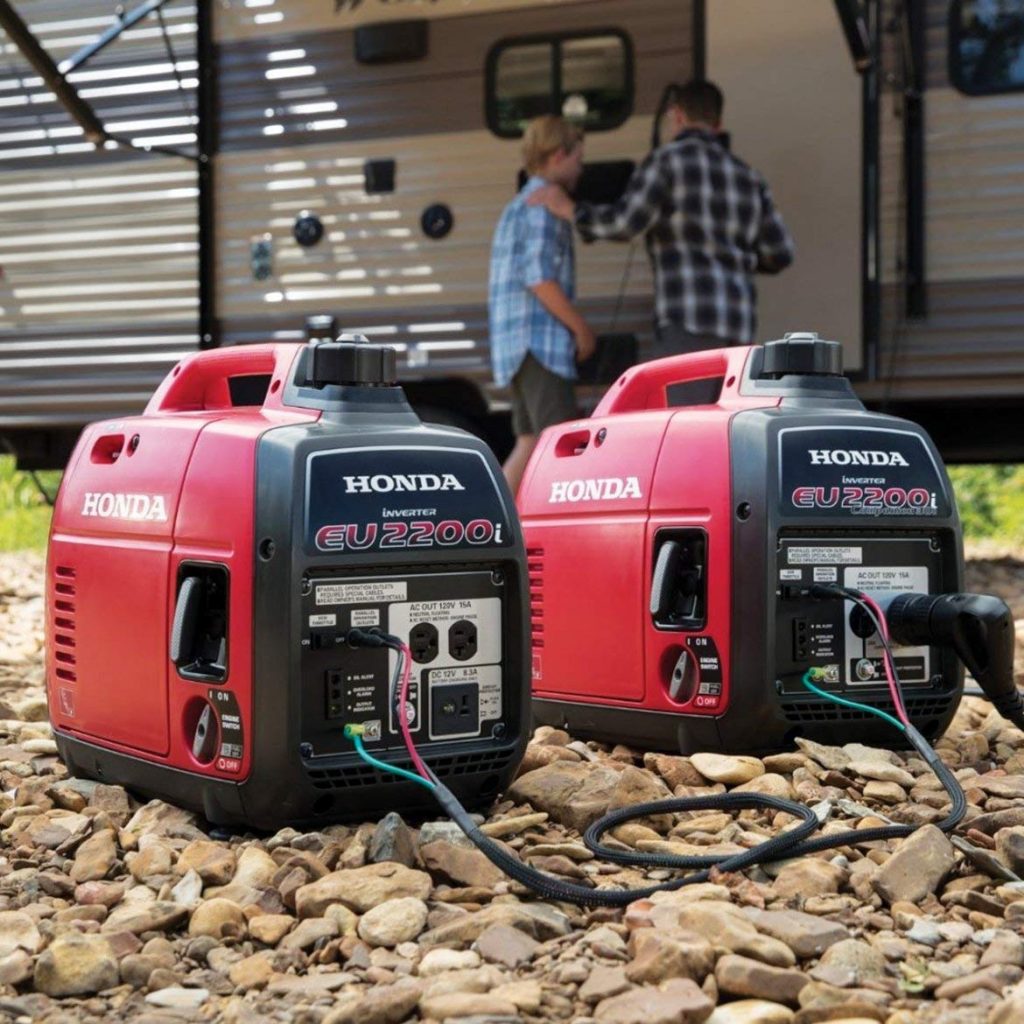 Of course, no product is going to have everything, and the same is true with the Honda EU2000i generator.
This generator is at its best when you're on the go. It can handle nearly any appliance you need while you're camping or powering appliances in your home during an emergency.
You wouldn't want to use the Honda EU2000i as a power source at a construction site, as it is not meant for heavy-duty purposes. They actually generate less total harmonic distortion (THD) and produce a clean sine wave which results in the steadier and cleaner flow of electricity delivered by the generator won't be able to handle heavy appliances the way some larger generators can. The same goes for appliances like an AC in an RV – it just doesn't produce enough power.
A good solution to this problem, though, is to buy two identical models of generators and connect them to one another. It's not that difficult and will double your power output, that is if you need more power.
Maintenance was the other category that we didn't love in the Honda EU2000i. There's no fuel gauge, for instance, so it's a guessing game as to how much fuel you have left.
A lot of modern generators come with LCD screens that tell you about the fuel, volts, and other information. The Honda EU2000i doesn't have one, so you'll have to keep a closer eye on it.
There is no oil extension tube with this generator, either, which means checking and changing the oil will be a bit of a chore.
Also Read: Wen 56200i vs HondaEU2000i: Differences Explained
Pre-Purchase Considerations
There are a few things you'll want to consider when purchasing a portable generator.
First, you'll need to decide on your purposes and how you plan to use it.
You may want to use it as an emergency power backup or carry it with you on camping excursions as a power source.
Noise levels of some generators are significantly quieter than others. If the noise level is a concern, you'll want to opt for a quieter operating unit that has a low noise level.
These are some of the questions you should ask yourself before purchasing a generator.
There are a wide range of Honda generators that come in various sizes and power outputs to cater to every need.
Is the Honda EU2000i the Right Generator for You?
The Honda EU2000i is a fantastic portable generator that you can use for most of your needs and is fuel efficient. It's best for those who want a generator to bring with them camping, although it provides a perfect safety net in case the power goes out in your home.
One of the few drawbacks that the Honda EU2000i has can be remedied by purchasing two of them. If you're worried about not having enough power for a few energy-hungry appliances, you can connect two generators together and get all the power you need.
Keep in mind that using two generators will be quite a bit louder than one, although the Honda EU2000i is one of the quieter portable generators on the market.
Overall, we really liked the Honda EU2000i inverter generator for most uses. It's portable and versatile, which justifies the above-average price. Those who rely on backup generators for their home might want something a bit more powerful, but this is a solid option if you're looking in the compact/portable generator category.