Disclosure: This post may contain affiliate links. This means that at no cost to you, we may earn a small commission for qualifying purchases.
Last Updated on October 22, 2021
If you're an avid camper or RVer, you might notice that your smaller generator isn't providing enough power anymore. That's where the Champion 3800 generator comes into the equation.
Maybe you need more power to run your appliances and electronics while on the go. If you're having this problem, then a mid-sized generator that keeps devices charged up and running could be just what you're looking for.
Too busy for the full read? Champion 3800 is the BEST Generator in December 2023
Champion 3800 Watt
– This GENERATOR is quiet, light weight and perfect for those who like to travel. Comes with a duel fuel system and highly recommended by us and our readers.
Check the Price Here
Smaller portable generators are more compact, but if you're bringing more items with you or you're taking a longer trip, you need something that can handle appliances and devices that use more energy. The Champion power equipment is an excellent mid-sized option.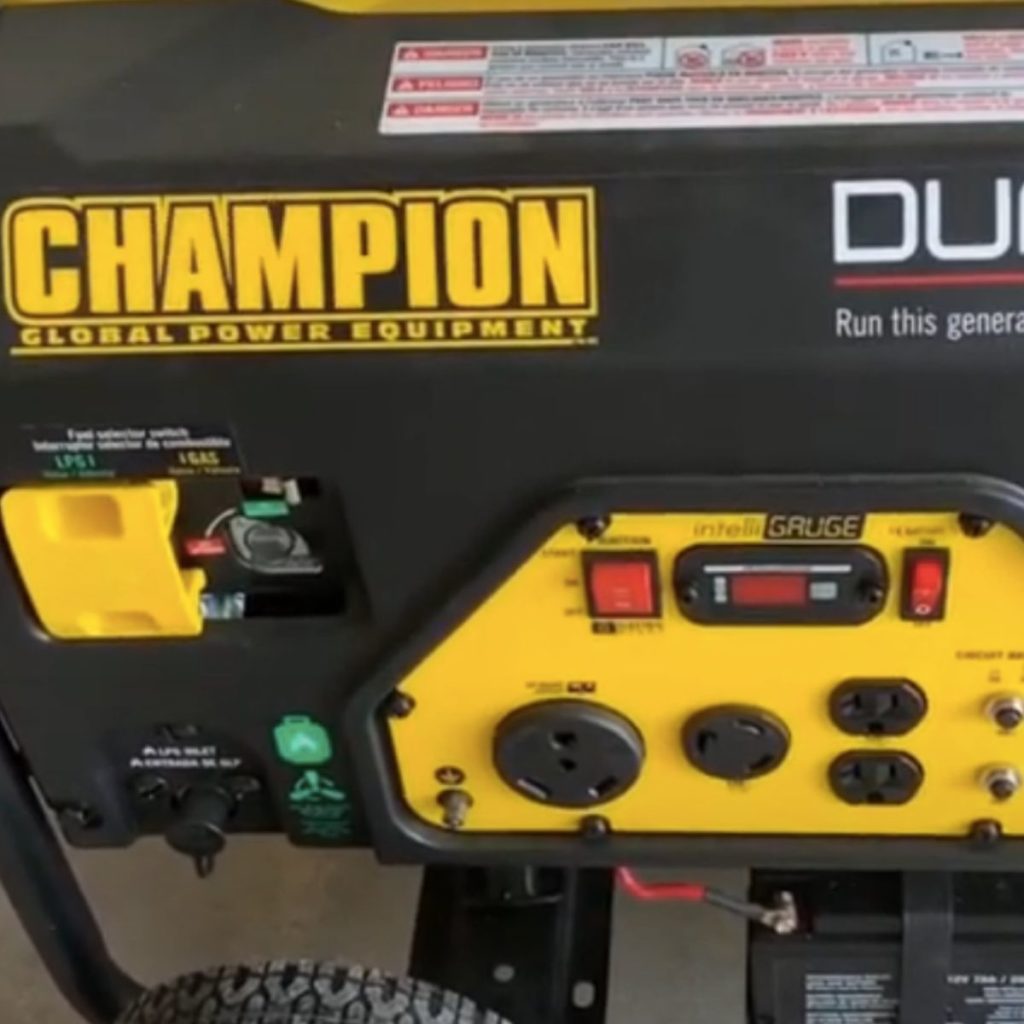 Champion 3800-Watt Portable Generator With Electric Start
The Champion 3800-Watt Portable Generator is RV-ready.
If your RV runs on a 30-amp system (3,600 watts), the Champion 3800 watt portable generator has more than enough power to keep your appliances and devices running.
The Champion power equipment also comes with a 30-amp RV outlet, which can reliably run a 15,000 British thermal unit (BTU) RV air conditioner.
The Champion 3800 watt Portable Generator runs on a dual fuel system that is it runs on gas or propane, which means you can use gasoline or propane to run the Champion 3800 watt generator. You can get up to nine hours of run time on gas, and if you're using propane, you can run your The Champion power equipment 76533 a bit longer, at 10.5 hours. it also comes with Three-year factory warranty with Free Lifetime Technical Support.
Propane is an excellent alternative to gasoline because it has a longer shelf life, which means you can still use your 3800-watt dual fuel generator when gasoline isn't readily available. Propane uses cleaner energy, which makes it easier on the environment.
The noise level of this champion 3800-watt dual fuel RV ready portable generator is 68 dBA if you keep a 23 feet distance from the dual fuel portable generator. We don't recommend standing any closer to the 3800-watt dual fuel generator while it's running because it has similar decibels as a running lawnmower.
What the Champion 3800-watt dual fuel generator lacks is quiet, it makes up for in power. If the power goes out at home, you can use the 3800-watt dual fuel portable generator as a backup power source. The dual-fuel portable generator is powerful enough to run some of the essentials, such as your lights, refrigerator, modem, furnace, computer and TV. It is also economical It will run for 9 hours on 3.5 gallons of gas.
You can also charge up your smartphone or tablet, so you don't have to worry about your electronics dying while the power is out.
Safety isn't an issue when using the Champion 3800W Portable Generator. The generator has built-in protection from any spikes in voltage that exceed its power capacity. It also has a fuel selector switch that allows you to quickly and safely switch between fuel sources. It can run up to 10.5 hours on a single 20lb propane tank. All the outlets come with a volt guard.
While this generator is on the larger side, it does allow for easy maneuvering with its folding handle and never-flat tires.
Specs and Features :
Dual Fuel System(gas or propane fuel)
Comes with a sturdy steel frame.
Power output: 3800 watts with 4000 watts maximum
4 Gallon Fuel Tank
Comes with air-cooled OHV engine
Outlets: 120V 30A RV, 120V 30A locking, Plus two 120V 20A household outlets.
6 Qt. Oil Capacity
Automatic Low Oil Shut-Off Sensor
Economy: 12 hours @ 50% on full tank of gas overload protection
Motor: 4 stroke, single-cylinder, 224cc gas engine
It comes with a cold start technology
Electric start and Recoil start.
10.5 hours on a single 20lb propane tank.
122 Lbs.
Push-Button Electric Start
Safety Fuel Selector Switch
68 dBA from 23 Ft.
PROS
Durable design
Comes with volt guard
Can run on both gas and propane
Low oil shutoff sensor.
Portable
Easy start
Protects against power surges
CONS
Pricey
Louder than other generators
What Is a 3800-Watt Generator?
To understand what a 3800-watt generator is and what it can do, it helps to know about the 30-amp system in an RV. The 30-amp system uses 120 volts. To determine the wattage, you have to multiply 120 volts by 30 amps; that equals 3,600 watts.
This means that all the devices you have plugged in and running shouldn't exceed 3,600 watts. The same guidelines apply to a 3800-watt generator. Your appliances and devices that you plug into a 3800-watt generator shouldn't exceed 3,800 watts.
To get a sense of what kind of devices a 3800-watt generator can power, imagine what an RV using the 30-amp system with similar wattage can run. Let's say that your RV fridge needs 600 watts to start and 180 watts to run.
Maybe you want to add a small flat-screen TV (200 watts), a microwave (1,000 watts from start to finish), and a laptop (250 watts) to the load. If it's summer, you might also want to run your RV's AC.
A massive 10,000 BTU RV AC needs about 2,000 watts to start up and 700 watts to keep it running. In total, if you turned all these devices on all at once, the starting load would be 3,600 watts, and the running load would total about 2,330 watts.
Now let's apply this to what the Champion 3800W generator can handle. This generator has 4,750 starting watts and 3,800 running watts. That's more than enough power to run your fridge, TV, microwave, laptop and AC. You have enough power left over to charge up your phone, use a few lights and more.
Finding the Right Generator for Emergencies
We've discussed how much power you'd need to use devices in an RV, but what if you wanted to keep the lights on in your home and run the essentials in case of an emergency? If you were going to buy a generator for emergency power how many watts would it need? There's no clear answer, as it depends on your needs.
You have to decide what items you want to use during a power outage. You might choose to sacrifice some devices that aren't essential, or you might want to keep everything running in your home. If there's a storm, earthquake, or another disaster that causes your home to lose power, what devices and appliances can't you live without for an unspecified amount of time?
The essential things you'd want to run likely include your heater/AC, fridge/freezer, a few lights, and a couple of electronics. In this case, you'd need a generator that puts out at least 3,000 watts. The Champion 3,800W generator would be perfect for this purpose.
If you want to run some extra appliances and devices, like your TV, microwave, washer/dryer, stove (if electric), water heater (if electric), and dishwasher, it's best to get a generator that has a 16,000-watt capacity.
You have to consider the watts required to start up these devices. Starting watts represent the extra wattage a generator needs to start motor-driven products, like a refrigerator or circular saw. If your generator doesn't have enough starting watts for a particular appliance, you won't be able to start up that appliance at all.
For example, a clothes dryer might require 6,750 watts to start and 5,400 watts to run. A fridge/freezer could take 2,900 watts to start and 700 watts to run. A large central AC might need 8,750 watts to start and 3,800 watts to run.
Add to that an electric water heater (4,500 watts from start to finish) and a washing machine (1,200 from start to finish). In this example, your required electric load would total 24,100 starting watts and 15,600 running watts. Therefore, you'd need at least a 24,000W generator, since the starting wattage is 24,100W.
On the other hand, if you wanted to power your whole home, you might consider looking at a 35,000W whole-home generator.
Frequently Asked Questions
As you search for the right generator, consider these frequently asked questions as they can help guide your decision.
Can I Use My Portable Generator Indoors?
No. In fact, it's hazardous to use your portable generator indoors. The exhaust coming from your generator releases carbon monoxide, which is a noxious gas that can cause serious harm if you breathe it in, especially in areas without adequate ventilation, such as inside your home or garage.
How Do Starting Watts and Running Watts Differ?
The starting watts, also known as the surge wattage, are produced for a short period of time. The starting watts represent the peak wattage a portable generator can deliver to devices.
Running watts or the rated wattage represent the continuous operating wattage. It's an important factor to consider when selecting a generator because it measures how much power a generator can deliver continually.
Are Wheels on a Generator an Important Feature to Have?
Some portable generators come with wheels or a wheel kit, which makes heavier units more portable. The Champion 3,800W generator weighs over one hundred pounds, so its wheels are convenient to use for people who can't lift it and carry it to its designated location.
Is a Portable Generator That Can Also Run on Propane More Reliable?
Not necessarily. However, propane is a lot cleaner to run, compared to gasoline. Propane is also a go-to option because it has a longer shelf-life, which means it's more accessible than gas.
For example, in an emergency, if you don't have access to gas because of its shorter shelf-life, then your stored propane is a viable solution because it's readily available.
It's important to note that propane can't start the generator's engine if there is cold weather or if temperature is too low.
If the battery goes dead. Can you start in manually?
A) Yes, but only if using propane as a fuel source. if using gasoline then the recoil start won't work without a battery charger attached. If the battery is completely dead you can also use the pull start.
Final Thoughts
A portable generator that can power essential devices can be a valuable tool for many consumers. Whether you want to go on a road trip or run the essentials during an outage, the Champion 300W generator can prove useful for your needs.