Disclosure: This post may contain affiliate links. This means that at no cost to you, we may earn a small commission for qualifying purchases.
Last Updated on February 4, 2021
While electronics like TVs don't use as much electricity as large appliances, the way you use them can significantly impact their energy efficiency. We'll do our best to answer the question, "How many watts does a TV use?" and several more in this short guide.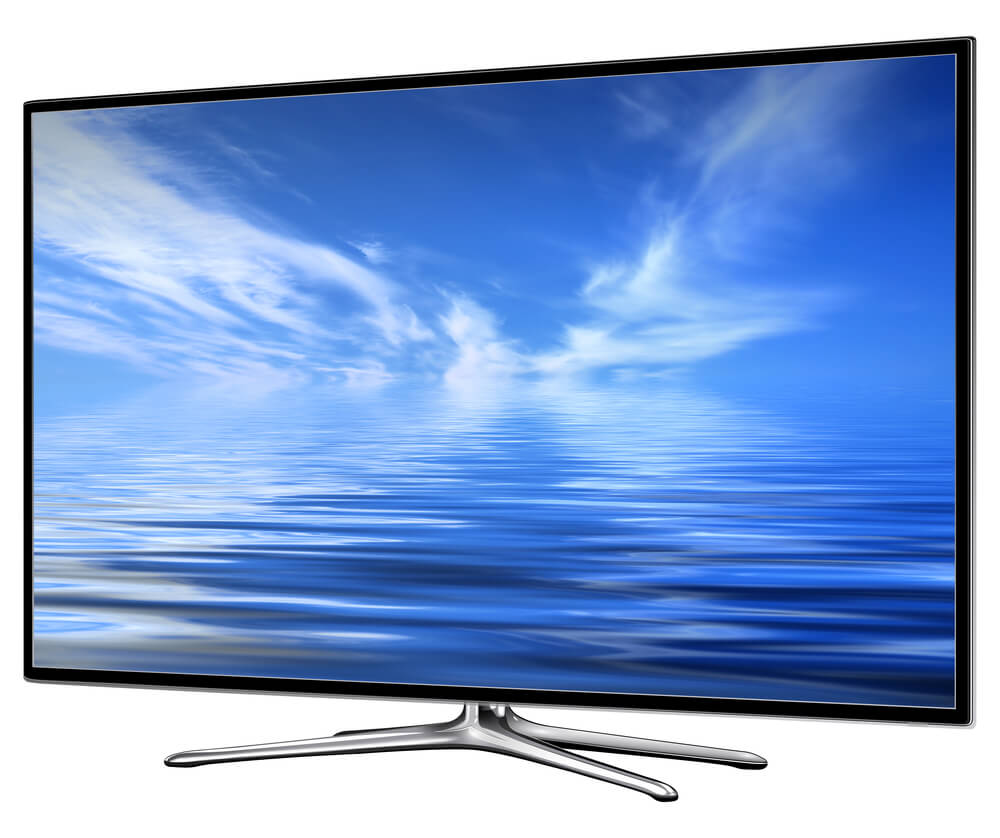 TV Power Usage Variables
How much electricity does a TV use? It isn't easy to figure out exactly how much power your TV uses unless you track how much time you use your TV very carefully.
If you use your TV for just a small amount of time per day/per year, you likely won't even notice its energy consumption. However, if you always leave your TV on or leave it on for most of the day, your energy costs could be more noticeable.
If you want an exact idea of how much electricity your TV consumes, consider investing in an electricity usage monitor. You can install these inexpensive devices between your wall outlet and your TV's plug to monitor the amount of energy that your electronics draw. Using a monitor is the most accurate way to calculate your TV's power usage.
If you're willing to do a bit of research, you can usually dig up the answer to the question, "How many watts does a TV use?" New TVs generally have their on-mode wattage labeled somewhere on the documentation, on the box, or on the TV itself. If you have an older TV, however, you may need to make an educated guess.
Even if you know the wattage of your TV, this value doesn't reveal exactly how much energy it uses. As such, the question "How much energy does a TV use?" isn't so easy to answer.
Can You Just Tell Me How Many Watts Does a TV Use?
Not all TVs use the same amount of power. Assuming all of the following are 32-inch TVs, they will each have the following approximate wattages:
LED: 30-55 watts
LCD: 50-70 watts
OLED: 60 watts
CRT: 120 watts
For the most part, LED TVs tend to have the lowest energy consumption, but make sure that better and new tv hits the market all the time. Your best bet is to check the individual wattage of any prospective TVs before you make a purchase.
Determining Energy Usage
"How many watts does a TV use?" is an entirely different question than "How much electricity does a TV use?" While the wattage will give you an idea of your TV's energy consumption, you'll have to calculate how much of your energy bill the TV is responsible for by doing a bit of math.
Let's say that you watch TV for six hours each day on average, and you have one LED TV that uses 50 watts of electricity. It means you're using about 300 watt-hours of power every day.
You probably don't use your TV for exactly six hours every day, but let's say you use it for exactly six hours each day for exactly one month (30 days). 30 x 300 = 9000 watt-hours per month. We can convert this to cents per kilowatt-hour by dividing it by 1,000, leaving us with 9 kWh of energy usage per month.
While kWh electricity prices tend to vary across the USA, the US Energy Information Administration sets the average price for US residents at about 12 cents per kWh. It means that your TV is only costing you about one dollar per month in electricity in this scenario.
Of course, if you have more than one TV, you could see your final cost double. The cost will also double if you leave your TV on for ten hours instead of five. The energy that your TV uses while turned off is negligible and not really worth calculating, but keep in mind that many appliances keep drawing power in standby mode. If you unplug every cord and device in your house when not in use, you might see a noticeable difference in your monthly bill.
Different TV types can influence what you'll see on your monthly energy bill, too. Costs can be harder to calculate because wattage and energy use varies widely between TV types, but as long as you know the specific wattage for your TV, you can calculate its impact on your energy bill with the formula we used above.
Let's reuse the same example from before. Assuming all of the following are 32-inch TVs and you use them for about six hours per day, each monthly cost would be around the following values:
LED: 5.4-9.9 kWh/month ($0.65-$1.19 per month)
LCD: 9-12.6 kWh/month ($1.08-$1.51 per month)
OLED: 10.8 kWh/month ($1.30 per month)
CRT: 21.6 kWh/month ($2.59 per month)
Unfortunately, there's no good method or formula to tell how much the size of a TV will impact its energy usage. The best way to determine how a TV's size will influence its energy usage is to check the wattage of each specific TV.
For example, an High definition LED TV that's 55 inches might be around 57 watts. This is the same wattage as a much-smaller 32-inch LCD tv, and slightly less than a 32-inch OLED TV. A 55-inch LED TV would still be significant would use less energy and be more energy-efficient tv than a 32-inch CRT TV.
So if you're asking, "How much power does a TV use?" the answer doesn't depend on size alone – it's a combination of size and type.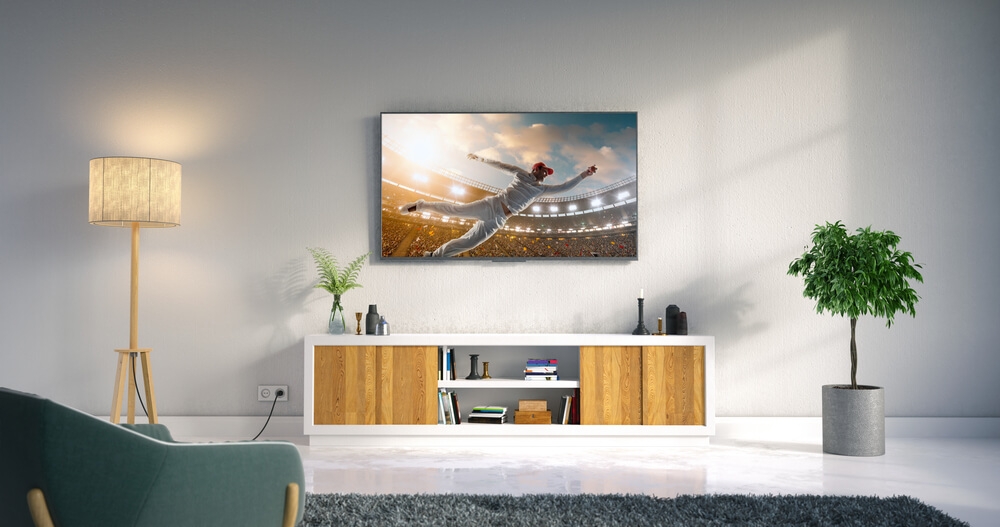 Reducing TV Energy Use
Like we just mentioned earlier, you can save money on your energy bill by unplugging your devices when they're not in use. If you don't want to go through the work of unplugging them, you can always use a power strip with an on/off switch to make this process easier, as it will turn off everything on the strip at the same time.
Upgrading to a newer TV, even if it's the same size, will almost always reduce your energy consumption. Appliances are always getting more energy-efficient, and almost every TV has the Energy Star certification now.
The Energy Star certification helps you choose devices and appliances that are more energy-efficient than their competitors. Currently, the Energy Star certification for TVs means that the certified model is at least 25% more energy efficient than its competitors.
Another way to increase your TV's efficiency is to downgrade to a smaller size. Choosing a screen that is a few inches smaller can reduce your energy consumption by hundreds of kilowatt-hours per year, especially if you have multiple TVs.
Last but not least, consider upgrading any TVs to LED TVs. Since technologies like OLED are still developing and improving, LED TVs currently offer the best energy efficiency. In theory, OLED TVs should eventually be more energy-efficient than LED TVs, which has to do with the science behind the display itself.
Final Thoughts
As TVs continue to become more energy-efficient, the cost of running a flatscreen TV is only a few dollars a month. If you're looking into upgrading your TV, consider choosing an LED TV and opting for a smaller screen size to reduce power consumption.
Related Articles: