Disclosure: This post may contain affiliate links. This means that at no cost to you, we may earn a small commission for qualifying purchases.
Last Updated on December 24, 2021
Everything in the world tends to require at least some level of power to run. From your coffee maker to your phone charger, to your television— all your gadgets take power to run. And every gadget you want to power will take wattage from your generator. So whenever you decide that you need a new generator, you need to take your gadgets into account.
A 7000 watt generator has enough power to sufficiently to run your essential household appliances. These appliances include a microwave, phone charger, fridge, coffee machine, tv and lighting. Although a 7000 watt can power these appliances, you should consider how many of these can it power at the same time.
The total amount of wattage needed for all of your devices will help you figure out what type of generator you need to run. For example, if you want to have a lot of electronics plugged in at the same time, you will find that you need a bigger generator than someone who just needs a TV and phone plugged in and running. Especially during a blackout situation, which is where most people use their generators.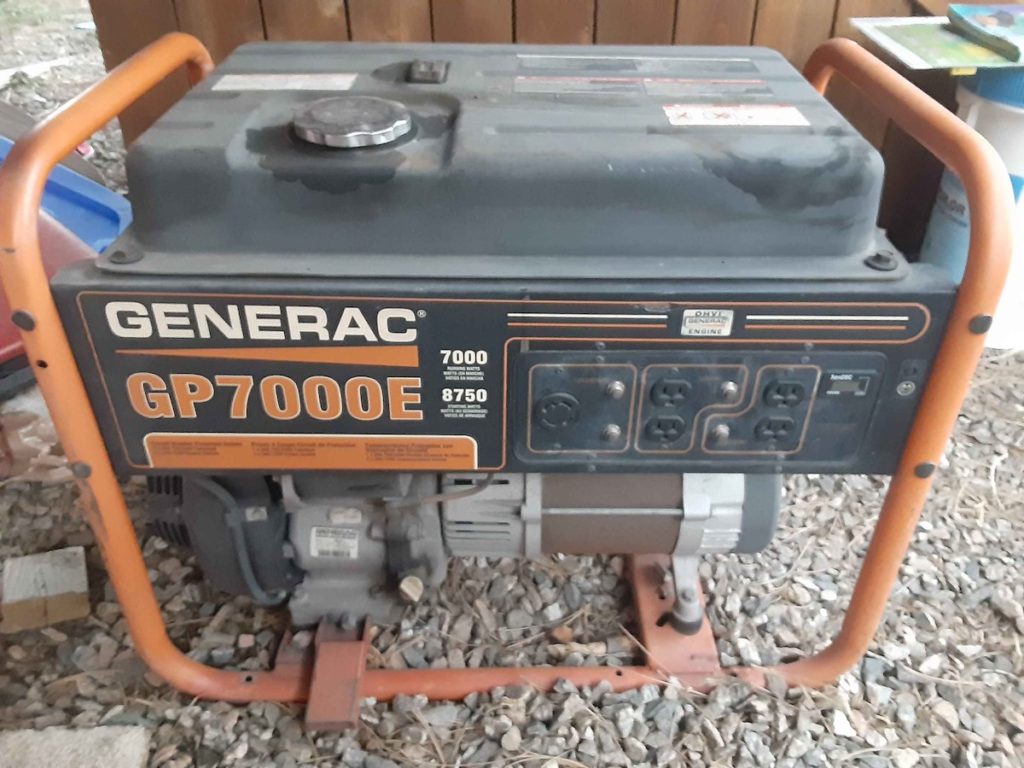 Why Do I Need A Generator?
In most cases, if you happen to have a power outage, most people are out of luck and have to depend on power companies to take care of them. This is fine if the power is only out for a few hours, or on a day with normal weather conditions. However, if you happen to have a massive storm or snowstorm that puts you in danger because you do not have power, then you will need to rely on a backup generator.
Most generators are not attached to the electrical grid, but instead, use chemical or mechanical energy to create fuel and then create power. They will still work and power all of your devices and appliances inside of a blackout.
Most average homes need a generator that can power 5,000 to 7,000 watts, and let's aim on the higher end. If you had a 7,000 watt generator, what could your house run? For starters, let's take a look at the two things you need to know about when it comes to power.
See Also: Our Recommended Quiet Generators
The Two Types Of Power
Every single device has two settings for power. The first is continuous power or running watts, which is the amount of power required for a normal load of power for your appliances. When they are simply running, they take up less power because they aren't working for it. But there's another type of power they use whenever you turn them on.
On startup, they use extra peak power or startup watts, where they are starting up or at their highest level of power. If you turn a blender on full blast with all its settings maxed out, that will use far more power than the same blender simply being plugged in and doing nothing for you.
Keep all this in mind whenever you are figuring out what a 7,000 watt generator or any generator will run. There's nothing more embarrassing than buying a nice generator and then having it struggle to handle the surge while you try to turn something on.
Calculating Wattage
To figure out whether a 7,000-watt generator will run all the appliances you want, look at the running wattage. Let's take an example and say that you have a phone charger, television, radio, computer, and a refrigerator. The running wattage for those items in order is: 10, 100, 100,300, and 600. Adding those up gives us a total running wattage of 1,110. Of course, most homes have dozens more items, but this is a good baseline.
Next, you need to look up the highest startup watts numbers. In this case, it's only the fridge. The startup watts for the fridge is 2200, and you would add that number to the total running wattage to get 3,310 in total. This total number is the size of the generator that will meet your power needs. It's a bit of math, but it can also be eye opening if you want to see exactly how much power certain appliances take and start up with.
Most households tend to get closer to 5000 or 7000, and that's why those types of generators are so common. Admittedly, 7000 is overkill if you don't own a big house and don't want to have a lot of appliances around and on during a blackout, but trust your calculations.
What Can I Run With A 7000 Watt Generator?
Need Power? Here's the MOST Powerful GENERATOR in September 2023
DuroMax XP12000EH Generator
– Power your home and heavy loads with this 12,000 Watt Generator. With over 4,000+ 5 Star Reviews - This is the BEST generator on the market.
Check here for latest price
.
Since this is one of the higher tier generators available, you can have just about anything connected to this backup generator and still have a bit left over. The largest items such as fridges and water heaters have a high startup wattage, and most of the time you can run multiple fridges and items without the risk of blowing out the generator.
If you want the AC, water heater, and a fridge all going at the exact same time, then you can certainly do that. In fact it is probably much easier to list what you can't run with a 7,000-watt generator. It might not be able to charge one large thing such as a big central air conditioner due to the massive surge power, but it does have the capability to charge many smaller things, such as water heaters, electric stoves, air conditioners, microwaves, and laptops all at the same time.
Again, if you want to be in a blackout situation or other power loss with all your comforts and home appliances working, the 7,000 watt generator is the best for you. If you only have a few items you would like to keep charged, you can do the math on them and potentially buy a lower option for your home.
No matter what you might need from a generator, 9 times out of 10 a 7000 watt option will be able to run all that you will need without any major trouble. You can make sure that your home is still safe and powered during a blackout situation, or just if you need a little extra juice during the day.
What Appliances Can A 7,000 Watt Generator Run?
We've collated some of the most popular items you might want to use your 7,000 watt generator to run. You will notice many of the smaller appliances have a consistent running watt, however, some larger appliances require more power to start up than they do to run. (Referenced as starting watts below)
Starting watts are essentially the surge or boost in power required to get your appliance running. Make sure to check the user manual with your generator as all generators are different.
By running an appliance with higher watt requirements on your 7000 watt generator you risk the potential for damage and therefore it is recommended to keep your generator at 85%-90% capacity.
| | | |
| --- | --- | --- |
| Appliances | Running Watts | Can It Be Powered |
| Phone Charger | 25 | Yes |
| Laptop | 60 | Yes |
| Light bulbs (75 watt) | 75 | Yes |
| Television (65″) | 160 | Yes |
| Microwave | 800 | Yes |
| Large Refrigerator | 700 running, 2200 starting watts | Yes |
| Coffee Machine | 1000 | Yes |
| Camping Fridge | 500 | Yes |
| Grill | 1200 | Yes |
| Dishwasher | 1500 | Yes |
| Hot Water Heating | 3000 | Yes |
| Central AC Unit | 3,700 running, 11,000 starting | No |
| Washing machine | 1150 running, 2250 starting watts | Yes |
FAQs
What can a 7000 Watt generator not run?
A 7000 watt generator can typically not run heavy resource appliances including central AC units and other appliances that will require a start up surge in power to run. Fortunately, there are many appliances that you can run with a 7000 generator, including your washing machine.
What happens if I try to run too many appliances simultaneously?
If you attempt to run too many appliances simultaneously, you risk damaging your generator. These risks include overheating and in extreme cases could result in a fire. Always read your user manual and operate at 85%-90% capacity to mitigate against the possibility of damage.
Running too many appliances on your generator at a time can be dangerous. You could damage delicate electronics, cause a brownout, overheat your generator, and even cause a fire. When in doubt, always run fewer appliances.
How do I run multiple appliances on a 7,000 watt generator?
To run multiple appliances, you can follow our guidelines below
Ensure you know the wattage it takes to run each appliance.
Next map out the watt of your generator. Your user manual will tell you the starting, running watt and continuous watts
Map out the appliances you will want to power. i.e Sump pump or a washing machine and your television.
Total both the starting and running watts of your appliances.
Calculate the difference between your generator wattage and the total of your appliances.
If less, you can run multiple appliances. If it's over you will need to reduce the number of appliances.
Always use less than the 100% capacity to ensure you don't damage your generator.
Can a 7000 watt generator run a house?
A 7,000 watt generator can run the majority of essential appliances in your house. It can not run all items in the house at the same time though. Follow our guide to understand what appliances you can run together.
Also Read: